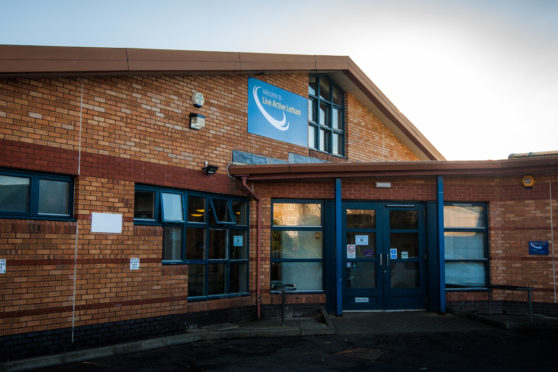 Plans for the future of a Perth community centre will be finalised this year, the team behind a massive refurbishment have confirmed.
Charity Letham4All took on the Letham Centre, formerly run by Live Active Leisure,  just before Christmas, after plans for a revamp fell through.
Perth and Kinross Council had signed off on a revamp of the community centre worth more than £3 million and the Tweedsmuir Road centre closed its doors for the work to start in August 2017.
However, when the project's budget was slashed the following summer, plans for extensions and an NHS treatment room, as well as a general facelift, were put on hold.
Local community group Letham4All have now taken on the project and received the keys to the building in December.  Most of the groups which used the centre before its closure have now moved back in.
The charity is now planning to revive the revamp at the end of the year – with or without more funding.
Group chairman Jon Kidd said: "We had a £3.1 million design prepared and ready to go before our budget was cut to just over £1.25m.
"A sizeable amount of that money is going to have to go to upgrading essentials like heating, electricals and plumbing.
"After that has been done and we've paid for the building and architectural work, we'll have between £500k and £650k for material alterations. It's a very inefficient building and there is a lot of work needing done.
"This isn't as much as we'd previously hoped for the extensions, but they're still a long term aim."
The group had high hopes for a cash injection after applying for a £1.9 million grant from the Scottish Government. This was refused but officials offered advice on how to improve the application to reapply in future.
"The feedback we had was very positive, and while there is no guarantee we would get the money the second time around, they felt our case was very strong," said Mr Kidd.
"We won't hear back until the end of the year, and building work for the reduced budget refurbishment wouldn't be able to start until then anyway.
"We're just going to keep doing what we're doing and plan for the smaller refurbishment before deciding on a path. In any event, there will be changes.
"We feel that it's the sensible option as, if the money comes through, we can crack on with the original designs but if not, we're ready to break ground on the smaller plans.