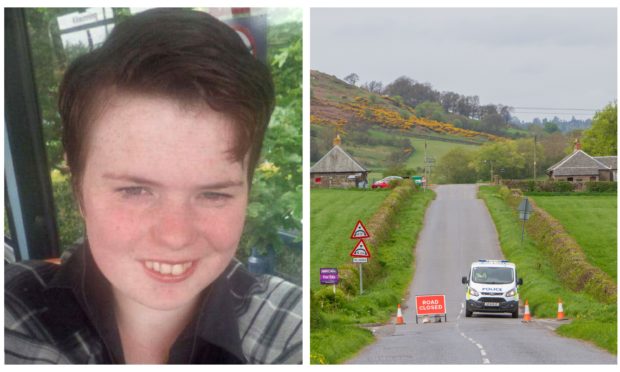 Holidaying hillwalkers found a blood-soaked body behind a drystone dyke on a rural Perthshire road, a murder trial has heard.
The grim discovery was made by a middle-aged married couple who thought the body could have been a mannequin, because its hands were colourless.
Jordan Johnstone, 25, and Angela Newlands, 28, are on trial at the High Court in Livingston accused of murdering 22-year-old Annalise Johnstone.
They deny allegations they killed her at the Maggie Wall witch memorial, near Dunning, and dumped her body at another spot on the B8062 Dunning to Auchterarder road.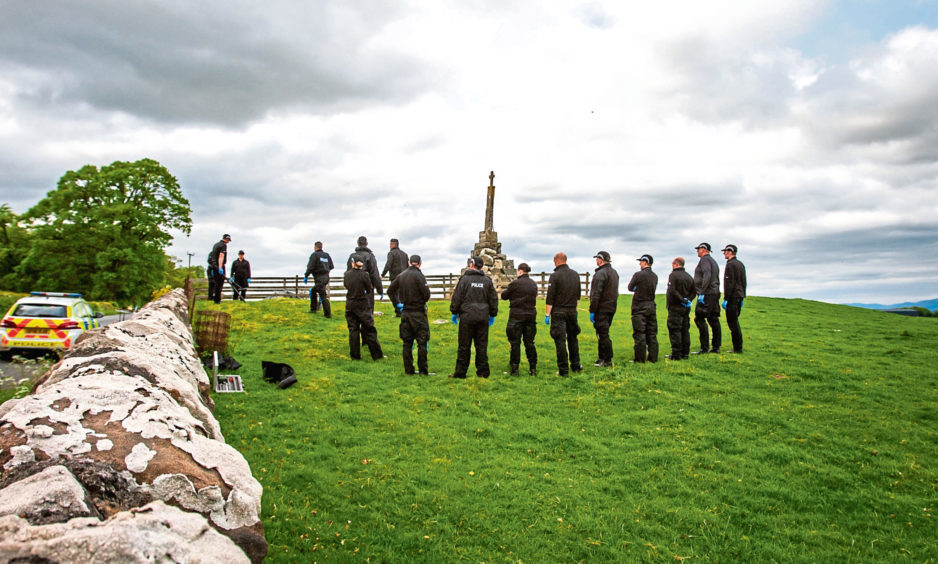 On the first day of evidence, retired couple Elaine and Stephen Bailey, from Nairn, told the court they were on holiday in Perthshire at the time.
They set off from their timeshare property in the grounds of Gleneagles on the morning of May 10, last year, with the intention of climbing Craigrossie Hill, near Auchterarder.
Mrs Bailey, 55, said: "We drove up and down the road for a bit before we found a very muddy place to pull in.
"When we first arrived, it was still drizzling so we decided to put our boots on and hang about until the weather cleared."
The pair got out of the car at about noon, and walked towards the hill, with Mr Bailey leading the way.
"I was appalled by the amount of rubbish lying around," said Mrs Bailey. "Then I caught sight of something that seemed a bit strange.
"There was the curve of something that didn't look like the rest of the rubbish."
Mrs Bailey said it appeared to be a person, lying face down with a leg up in a "sort of recovery position".
She said: "I called ahead to my husband and said: 'There's a person.'
"He looked back and said: 'What?'"
The court heard that Mrs Bailey, a trained first aider, tried speaking to the person: "Hello? Hello? Can you hear me?"
There was no response, she said.
The Baileys initially thought it was the body of a young man. Mrs Bailey described the person as wearing dark "hipster" jeans and a bomber jacket.
She said: "There was a lot of blood. It was a strange luminous colour, at the base of the neck or the head.
"There were flies around that part."
Before they called 999, they gave themselves a "reality check."
Mrs Bailey said: "We could see a hand and it was extremely white, so we thought it might be artificial, like a mannequin.
"My husband poked it with a walking pole and we confirmed it was a real person."
Under cross examination by Johnstone's QC Keith Stewart, Mrs Bailey said there had been no attempt to conceal the body.
A recording of the 999 call made by Mr Bailey was played for jurors.
He told the operator: "It looks like he has suffered a trauma to his head.
"If I had to guess, I'd guess he was hit by a car."
The trial continues.
---
The charges:
Jordan Johnstone and Angela Newlands face a total of five charges.
It is alleged that on May 6, 2018, at Bank Street, Coatbride, they both assaulted Nadia Johnstone and did threaten her with knives, repeatedly attempt to strike her on the neck with a knife, push her, throw liquid at her and punch her on the head, to her injury.
Johnstone is further accused of assaulting his sister Annalise Johnstone at Denholm Way, Beith, Ayrshire, on May 8, 2018. It is alleged he seized hold of her and pulled her from a Ford Galaxy car.
Prosecutors also claim that Johnstone stole a Hobby Caravan, and its contents, from Carmichael Place, Irvine, on May 9, 2018.
It is alleged that on May 10, 2018, both Johnstone and Newlands assaulted Annalise at the Maggie Wall's Memorial on the B8062 Auchterarder to Dunning road, repeatedly struck on the neck with a knife or similar weapon and murdered her.
Johnstone and Newlands are further accused of attempting to defeat the ends of justice on May 10 and 11, by (a) transporting Annalise's body in the Ford Galaxy from the Maggie Wall memorial and leave her behind a stone dyke at the side of the B8062; (b) cleaning the Ford Galaxy; (c) setting fire to material, the nature of which is meantime not known to the prosecutor, and (d) falsely report Annalise as a missing person.