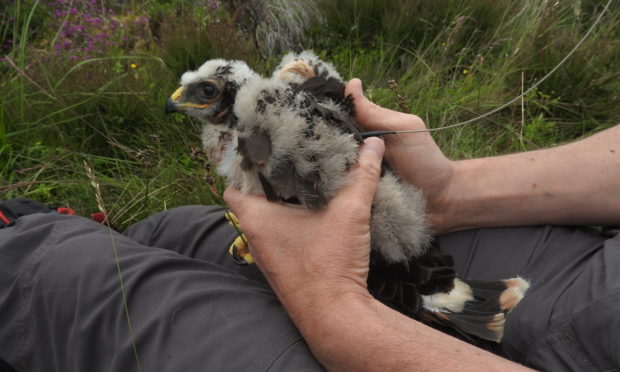 The Scottish Gamekeepers Association (SGA) is set to launch a parliamentary petition calling for independent monitoring of satellite tags fitted to birds of prey.
The association has claimed that greater accountability could assist police in prosecuting potential wildlife crime and provide a more transparent record of raptor persecution.
Currently, police must obtain satellite tag data from owners or third parties before commencing investigations if a tag stops signalling.
The SGA suggests the potential for bringing cases to court are currently "minimal", with tag reliability, type and functionality amongst many limiting factors.
The organisation also believes the legal process is at risk of being obscured, with some tag owners able to publish interpretations of events to advance campaign objectives to legislate or ban certain activities.
Ownership of tag data has enabled campaigners to present versions of evidence for publicity, even in instances where police investigators have not been able to establish criminality.
SGA Chairman, Alex Hogg said: "Accountability and transparency has to be the objective. Despite media accusation and trials, no cases of missing satellite tags have ever had the evidential rigour to go to court.
"If police had the oversight on the data and the independent expertise to analyse it, there is greater potential for prosecution. Police themselves admitted in Parliament recently that establishing criminality in satellite tag cases is difficult."
The SGA specified the "Fred the Eagle" case, fronted by BBC naturalist Chris Packham, as evidence of a "need for review".
The eagle disappeared from satellite tracking near Edinburgh and suspiciously reappeared over the North Sea near St Andrews days later.
The petition announcement comes a month after a hen harrier named Rannoch, which went missing in November 2018, was traced to an illegal trap in Perthshire moorland by satellite tracking.
Satellite tracking managed to identify the location of the raptor, with a leading charity branding the population size of "the most persecuted bird of prey in the UK" as "perilously low".
Last year, the RSPB's head of investigations Ian Thomson said that a disproportionate number of tagged birds are going missing in Angus.
A Scottish SPCA undercover inspector also raised concerns for the area, which was highlighted as a "blackspot" for satellite-tagged golden eagles disappearing in a Scottish Government report in 2017.
Both organisations suspected the volume of animals going missing in the area is because of measures taken to protect grouse numbers to fund the shooting season, essential for the economic vitality of local estates.