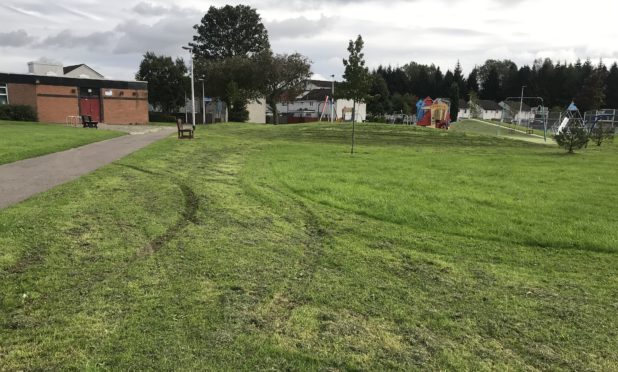 Police are hunting a motorist said to have driven at a group of schoolchildren in a Perth playpark.
Youngsters were left terrified when a car mounted a pavement and accelerated towards them.
Witnesses said the vehicle only came to a halt when a passing adult jumped in front of it.
Police Scotland confirmed officers are investigating the incident at the popular swing park, near a row of shops off Argyll Road.
It happened just after 7pm on Wednesday.
No one was hurt but parents said their children were left badly shaken.
One mother said: "This car just came out of nowhere and drove straight at them with its headlights on.
"It must have been traumatising. Some of the children had to be pulled out of the way."
She said: "I don't know if he was just trying to scare them but the way he was driving, someone could have been killed."
Locals said a large group of children, aged between six and 15, had gathered at the park on Wednesday evening.
It was claimed the incident may have been "retaliation" following a fight between two young girls.
Another resident said yesterday: "This white car turned up and just raced towards everyone.
"Another man appeared and jumped in front of the car to stop him and protect the children.
"Then after some shouting between the two men, he got back in his car and drove off."
Tyre tracks left at the scene show where the car travelled across several metres of grass, before veering onto a footpath.
A police spokeswoman said: "We are investigating the circumstances surrounding an incident at North Muirton Park, Perth, during the evening of September 11, regarding the manner in which a vehicle was being driven.
"Enquiries continue to establish the full circumstances of the incident and whether any criminality was involved."
Neighbours said the park was a popular hang-out for children at night. Sections of the area is protected by CCTV.
Any witnesses have been urged to contact Police Scotland on 101.