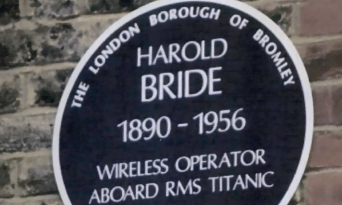 Plans have been proposed to commemorate a Titanic hero who saved hundreds of lives when the ship sank with a plaque at his former home in Scone.
Harold Bride was one of two wireless operators onboard the iconic ship when it sunk on its maiden transatlantic voyage in April 1912.
Born in London in 1890, Bride trained as a Marconi Wireless Operator and left Southampton for New York as the RMS Titanic's second operator.
On the fateful night the boat sank, Bride had arrived to take over for his shift. He had just arrived to take over when the captain burst in to say the vessel had struck an iceberg.
Bride jumped to action and made the calls for assistance to nearby ships, and it is thought that the Englishman's call for help was the fist ever "SOS" message used in operational circumstances.
As such, Bride was credited with saving hundreds of lives aboard the sinking ship, and introduced the SOS call which has saved thousands since.
After contacting passing boats for help, Bride was relieved of his duties and was swept overboard upon reaching the boat deck as he tried to escape.
He resurfaced under a lifeboat and fought his way to the surface as he swam away from the wreckage. He was picked up by a collapsible lifeboat before being saved by rescue boat Carpathia, suffering from severe frostbite and crushed feet.
Bride went on to serve as a witness in the inquiries into the Titanic's sinking and even worked as a telegraphist during WWI.
In a bid to escape his celebrity "hero" status, he moved to Mansfield Road in Scone with his wife Lucy, from Stranraer, in 1934 where he lived for the next ten years. After that, the Bride family spent four years living in Dunning 16 miles away.
Bride died of lung cancer in 1956 aged 66, and a plaque has been displayed in his honour at his childhood home in the London borough of Bromley and the house has become a popular pilgrimage site for Titanic enthusiasts.
But Scone and District Historical Society believe that his home in the village should also bare a memorial in Bride's honour.
The group have applied to the council's planning team to put up a plaque on the C-listed building, which is still a privately owned home. It's owner is due to celebrate his 100th birthday on December 14 and the plaque would be a fantastic present to mark the occasion, according to the Historical Society.
Perth and Kinross Council planners are expected to make a decision in the near future.