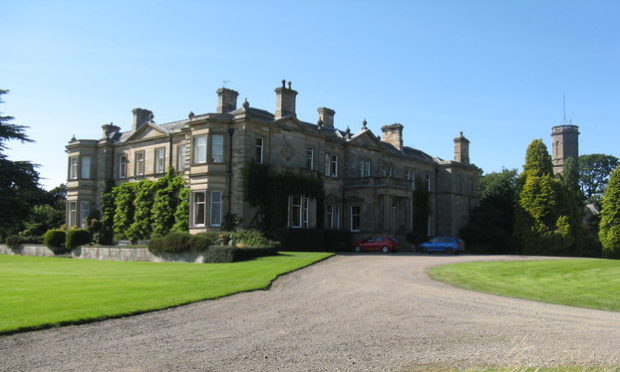 An estate owner who crashed his car off a dual carriageway was clutching a bottle of vodka as he hurled death threats at police and other witnesses, a court heard.
James Heriot-Maitland, 40, was banned from driving for 18 months and fined £1,000 at Perth Sheriff Court yesterday.
The court was told he was struggling with drug and alcohol problems.
Heriot-Maitland, who owns Errol Park Estate (pictured), admitted he failed to give a breath specimen when required to do so by police on the A90 Perth to Dundee dual carriageway at Glendoick on December 3.
He also admitted causing fear or alarm by acting in a threatening or abusive manner at Glendoick and at Dundee police headquarters, shouting, swearing and uttering threats of violence.
The Crown accepted not guilty pleas to several other charges including failing to comply with a roadside breath test, failing to identify the driver, and having no MOT or insurance.
Depute fiscal Robbie Brown said that witnesses first reported Heriot-Maitland's Toyota Landcruiser at the Broxden roundabout on the outskirts of Perth at 7.30pm because of the erratic way it was being driven.
He managed to drive several more miles and was reported by more concerned motorists until he lost control and came off the road at Glendoick.
Mr Brown said: "He was seen spinning off the road at Glendoick. People stopped to go over and help and he is seen swearing at the people there.
"He was found sitting in the car with a bottle of vodka. He was abusive and threatening to the police."
Heriot-Maitland, who skipped a previous court appearance to fly to a rehab clinic in the Far East, told officers: "I'm in a lot of trouble here."
Mr Brown said he then threatened to kill police officers and continued the abuse from the scene to police headquarters in Dundee after his arrest.
Solicitor Jonathan Guy, defending, said: "It was a moment of utter stupidity on his behalf," adding that his client had a number of issues he was trying to get help with.
Sheriff Keith O'Mahoney said: "These are fairly serious offences that have to be marked by the court. It will have to be a hefty financial penalty."
Heriot-Maitland, of Errol Park House, near Perth, was given 30 days to pay the fine.
Previously, Sheriff Lindsay Foulis said of Heriot-Maitland: "He dawdles off to Thailand, knowing full well that the trial on this matter was set for June 3."
The case had been adjourned until yesterday, when the guilty plea was entered.