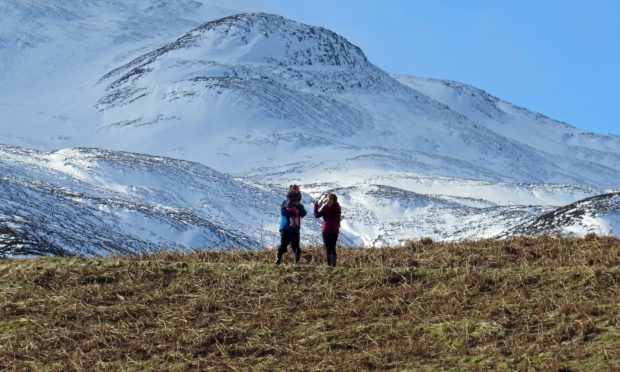 Intrepid Munro-baggers will soon have the chance to take on one of Perthshire's most popular mountains from a brand new perspective.
The John Muir Trust, Forestry and Land Scotland and Highland Perthshire Communities Land Trust have begun work on a new footpath at Schiehallion that will offer visitors a "completely different" experience of the surrounding mountain landscape.
Each year, around 20,000 people walk up Schiehallion and the first section of the existing route was designed for ease of  access. With this section now requiring resurfacing, the Heart of Scotland Forest Partnership , which brings together seven local organisations, has looked at options for a low-level, circular route, with an easy access path and boardwalk.
The kilometre-long walk starts and finishes at the Braes of Foss car park and crosses forestry land as well as community-owned woodland on Dun Coillich, linking with the existing Schiehallion path to form a loop.
The path will comprise boardwalk and stone chips and will include seating along its length.
New interpretation boards will provide information on wildlife and archaeology plus details on the Heart of Scotland Forest project.
Contractors have been using part of the Braes of Foss car park as a works compound since September 27 and the building project is expected to last four weeks.
As a result, the number of available spaces will be temporarily reduced and there will be deliveries of materials by heavy lorries through the car park during working hours.
Liz Auty, the John Muir Trust's Schiehallion land manager, said: "We are really excited about this project that will allow people of all abilities to experience the hills and enable us to hold educational and public events together with our neighbours, Highland Perthshire Communities Land Trust and Forestry and Land Scotland.
"In the meantime, we hope visitors will be patient and make allowances for the necessary disruption. We would ask drivers to park considerately ensuring that there is no impediment to either local traffic or delivery lorries entering and leaving the car park."