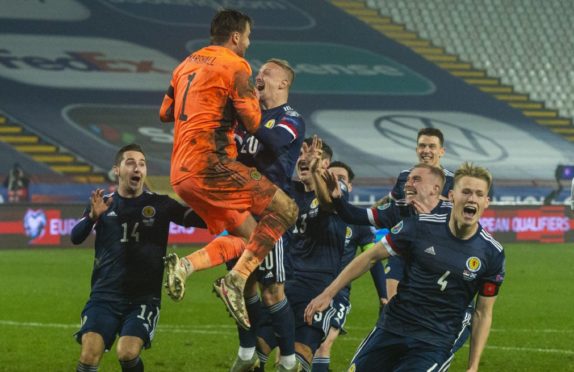 An eerily empty Rajko Mitic Stadium on a cold and wet November night is about as far removed from a packed Wimbledon Centre Court on a scorching hot summer afternoon as you could possibly imagine.
But seven-and-a-bit years after Andy Murray endured that seemingly never-ending last game with all its deuces to hold his serve and nerve and put away Novak Djokovic in the men's singles final at the home of tennis, beating Serbia in the sporting arena has got its era-defining sequel for Scotland.
There is no equivalence between the achievement of Steve Clarke's team of footballers and the greatest Scottish athlete of them all, of course.
But qualification for a major championship in our national game for the first time in over two decades certainly bears comparison with what happened at the All England Club in terms of significance for the country as a whole.
If anything, being part of Euro 2020 next summer, with two group games at a (crammed-full, hopefully) Hampden Park and one at Wembley, will have a deeper and longer-lasting impact on grassroots sport in Scotland and those who play and watch it.
Touch wood, the world will be coming out of hibernation by then and a festival of football with supporters as the backdrop would be the perfect way to celebrate it.
And, make no mistake, the Scotland team richly deserve to be part of the Euros.
Pressure was on one shoulder in Belgrade and expectation the other.
All the near misses and all the failures of the last 22 years, glorious and not so glorious, have been trotted out this week. And there has been plenty of talk about the quality of their opponents.
The prevailing pre-match wisdom was that if the Scots were going to win this play-off final it would be after soaking up Serbian pressure, hitting them on the break and hanging on.
Instead for the vast majority of 90 minutes there was control. Control and perfect tactics.
Scotland dominating possession and territory in the first half was born of the eight-game unbeaten run they had put together and the confidence that came with it.
Lyndon Dykes has proved to be the ideal striker for this team, combining aerial excellence with selfless running and impressive link-up skills. Put simply, he gets the side up the pitch and good things happen around him.
As encouraging as the opening 45 was there wasn't a real chance created in it but, with Serbia unable to change the narrative after the re-start, that altered six minutes into the second period.
Andy Robertson had already squandered a golden chance by the time Ryan Christie squeezed a low 20-yard left-footer in off the post.
To think that there was a worry Ryan Fraser's absence would hurt Scotland's chances. Christie proved to be an even more effective side-kick for the QPR man than anybody could have hoped for.
His place in Tartan Army folklore is secure.
In fact, the same goes for all of the players in dark blue.
If you're putting your hand up and saying you thought Scotland were going to do it after conceding a last minute equaliser from a corner and then going into extra-time with their best attacking players substituted off, you're in a very small minority. Or fibbing.
The commitment and quality of normal time won't be forgotten but the character of that next half-hour and then during another faultless penalty shoot-out will be the abiding memory.
Andy Murray will definitely have approved.
And he'll now know what the rest of us have gone through when we've been watching him through the gaps in our fingers.