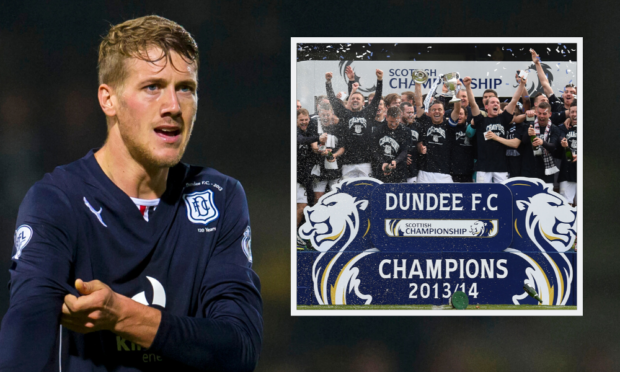 Former Dundee midfielder Jim McAlister believes the club's Championship title triumph in 2014 was inspired by relegation the previous season.
Speaking exclusively to The Courier, the 34-year-old Morton man lifted the lid on his three years at Dens Park.
McAlister, a Dark Blues favourite from 2012 to 2015, thinks their ascension to the top flight as 'Club 12' at the expense of the demoted Rangers, ultimately, benefitted them despite it appearing unjust at the time.
"It was pretty unfair how short the notice was," he said of Dundee's admission to the SPL the day before the 2012/13 season started.
"I'd played with (boss) Barry Smith a few times when he was on loan at Morton so I always had a decent relationship with him.
"I didn't actually sign until the Friday night before the first game of the season.
"I hadn't trained and the first time I met the boys was at the Fenwick Hotel in Kilmarnock before the game.
"Barry had given me the heads up saying 'if you give me your word you're fit enough to start the game I'll put you in from the start'.
"He did and I never really looked back after that.
"Looking back on that season I think getting relegated did help us go on to win the Championship.
"It was disappointing, of course. We nearly salvaged it towards the end where we had a right good run under Bomber (John Brown) when he came in.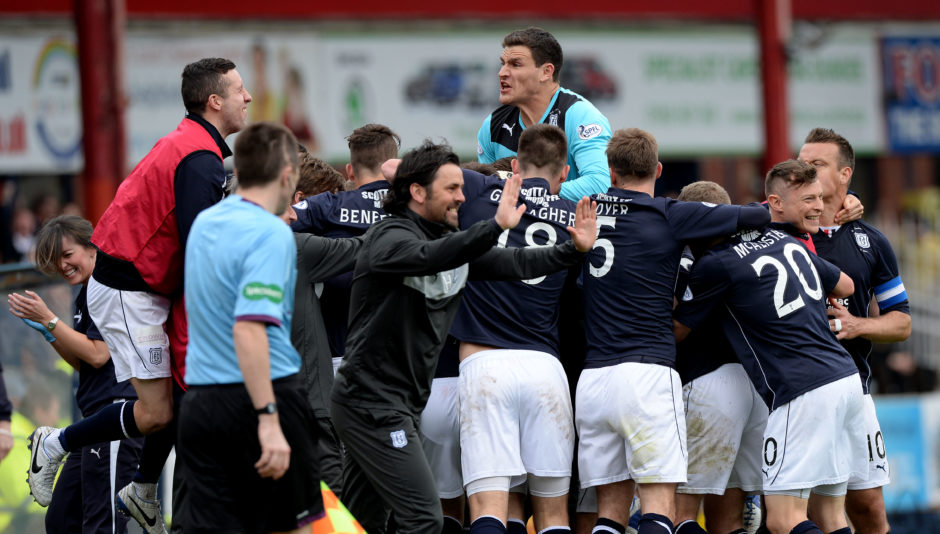 "We gave ourselves a fighting chance but, unfortunately, left it too late.
"The biggest thing for me was we kept most of the boys that summer.
"We'd a wee taste of the Premier League and there was that inner determination to get back.
"Bomber added experienced boys like Gavin Rae and Peter MacDonald which was a massive help.
"We'd given the fans a taste of top-flight football, which was long overdue, and we just had that drive to get back up again."
McAlister, who made 125 appearances and scored 12 goals in dark blue, was a key part in Dundee's success in the Championship under Brown and Paul Hartley when he arrived in February 2014.
"It was important for Paul to come in and not upset the apple cart," McAlister added.
"We were sitting second at the time, well in touch, so it was important things didn't change much.
"The team didn't change much, the shape or the personnel, and, thankfully, a lot of the momentum was already in place."
Although they got over the line to win the league on a remarkable final day – six years ago this week – McAlister admits there were times they thought they'd blown it and lost the league to closest rivals Hamilton Accies.
"It was strange," he admitted.
"The worst part of it was with three weeks to go when we lost at Morton and that handed Hamilton the momentum to go top of the league.
"I think we'd thought we'd blown it then.
"I'll never forget, one of my best mates in football, Andy Graham was the captain at Dumbarton and they were playing Hamilton the following week.
"He promised me they'd get a result against Hamilton as long as we did the business at Alloa.
"They hammered Hamilton 4-1 and we won 3-0 down at Alloa.
"In the last game of the season, we were 2-0 up at half time so I don't think anyone was asking how Hamilton were getting on because we were so confident we were going to take care of our own job.
"The second half wore on and we conceded a penalty and the game goes to 2-1.
"I remember Craig Beattie coming on late in the game and he's going round telling boys 'Hamilton are 8-2 up'.
"We're saying 'aye right Beats!' thinking a draw would've still been enough whatever happened.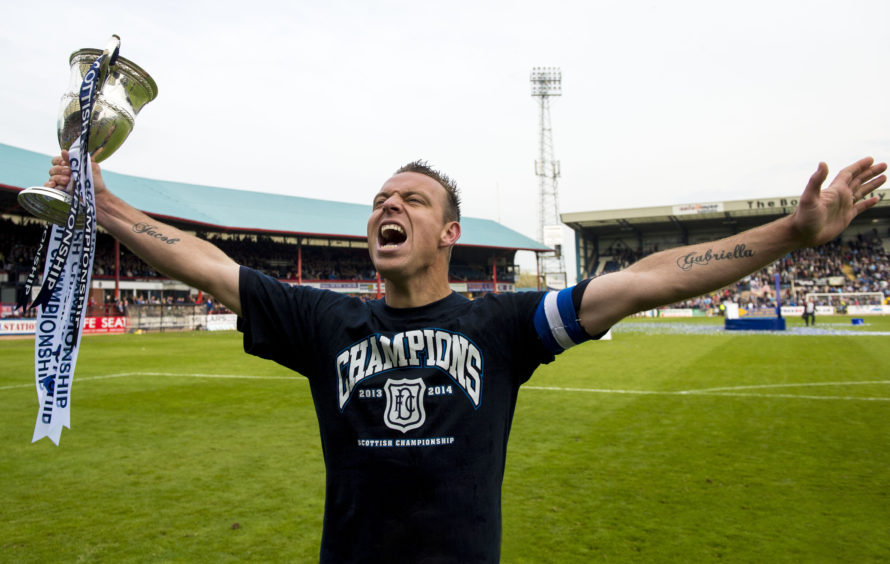 "We were telling him to get lost so we could concentrate on the game and get it done with.
"It wasn't until the pitch invasion after the game, maybe 10 minutes after they cleared it and we got back in the dressing-room that we realised Hamilton had won 10-2.
"It was absolutely bizarre they got the eight-goal swing that was required but we got there!
"That day was something I find myself on YouTube watching every now and then.
"There's lots of brilliant fan footage from that day.
"It's nice to reminisce. It was fantastic the way it finished up, with all the highs and lows of that season, for it to go to the last second effectively.
"To win it the way we did, with the pitch invasion and Dens Park as full as it was – it was different class."
Leigh Griffiths on rejecting Parma before joining Dundee, disappointment at Jocky Scott's sacking and disillusion with Gordon Chisholm and Billy Dodds management team