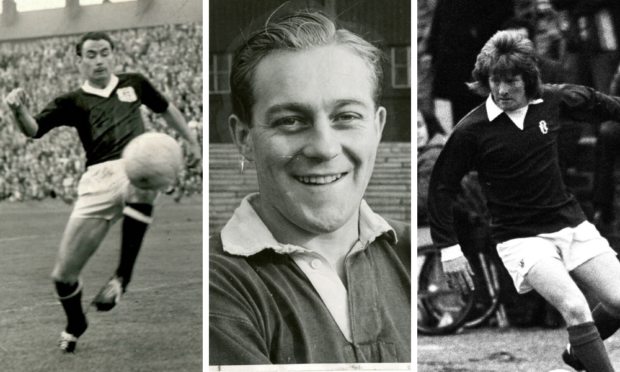 A handful of Dundee greats are in the running to be named in Scotland's top 50 players of all time – who should make the cut, though?
Alan Gilzean, Alex Hamilton, Bill Brown, Doug Cowie and Billy Steel have all been nominated on a long list to find the nation's greatest ever footballers.
They are joined by more recent faces who kicked their first ball in senior football in the dark blue of Dundee.
Among them are the current Dee technical director Gordon Strachan and former manager Neil McCann, as well as Colin Hendry and Tosh McKinlay.
It is up to the public to choose who gets in with voting closing on the Scottish FA website last night.
As we wait to see if there is a Dundee representative in there, Courier Sport looks at the club's top internationals.
---
Alex Hamilton
Scotland caps: 24
Dundee appearances: 359 (1957-68)
The man who has won more caps as a Dundee player than anyone else, classy right-back Hamilton was a key member of the league-winning side of 1962 and made his Scotland debut the same season.
Lining up alongside club-mate Ian Ure, Hamilton got off to a winning start in the other dark blue as Scotland beat Wales 2-0. Weeks later he was part of a national starting XI that boasted three Dees for only the third time in history alongside Ure again and Hugh Robertson.
Doug Cowie
Scotland caps: 20
Dundee appearances: Club record 446 (1945-1961), 24 goals
It's an appearance record that will take some beating but Cowie did more than just star at Dens Park where he won back-to-back League Cups. Recognised as the country's best left-half, Cowie made his international bow in a 2-2 draw at Wembley in front of 93,000 spectators in 1953 alongside team-mate Billy Steel.
A regular during the 50s, Cowie was the first Dee to play at a World Cup in Switzerland in 1954 before finishing his Scotland career at the 1958 World Cup in Sweden.
Billy Steel
Scotland caps: 30 (13 while at Dundee), 12 goals
Dundee appearances: 131 (1950-54), 45 goals
A superstar of the 1950s, Dundee paid a Scottish record transfer fee to Derby County to bring Steel back to Scotland. The Dark Blues shelled out £22,500 for the 17-times capped international. He would pay back some of that sum by helping George Anderson's side to two League Cups and the Scottish Cup Final in 1952.
As a Scotland player, he netted three times in his first three games in 1947 and scored four times in one match against Northern Ireland in 1950, with a single against Denmark making him the highest-scoring international while a Dundee player.
Alan Gilzean
Scotland caps: 22 (five while at Dundee), 12 goals
Dundee appearances: 190 (1957-64), 169 goals
Another record-holder that's likely to stand the test of time, Dundee's greatest goal-scorer Gilzean shot the Dark Blues to league glory and then to the European Cup semi-finals before continuing his scoring feats on the international stage.
Making his debut in 1963, Gilzean would go on to notch the only goal against England at Hampden in front of 133,000 the following year. That caught the attention of Tottenham Hotspur as he moved to the London club in 1964 and enjoyed a stellar career at White Hart Lane. Scoring 12 international goals, Gilzean bagged braces against West Germany, Northern Ireland, Wales and Cyprus.
Bill Brown
Scotland caps: 28 caps (4 while at Dundee), six clean sheets
Dundee appearances: 274 (1949-59)
Arbroath-born Brown spent a decade between the sticks for the Dark Blues, winning the League Cup in 1952, but waited until the 1958 World Cup to make his Scotland debut in a 2-1 defeat to France.
He would pick up another three caps before heading to Tottenham for £16,500 in 1959 where he won a league and cup double, a further FA Cup and the 1963 European Cup Winner's Cup. Brown would hold the record for most capped goalkeeper until Alan Rough took that mantle.
---
HONOURABLE MENTIONS…
Gordon Strachan
Scotland caps: 50, five goals
Dundee appearances: 91 (1971-77)
Now the club's technical director, Strachan came through the youth setup at Dens Park but didn't earn his first cap until 1980 as an Aberdeen player.
Colin Hendry
Scotland caps: 51 caps, three goals
Dundee appearances: 41 (1983-87), two goals
Hendry made his professional bow for the Dark Blues as a striker in 1984 but it wasn't until being converted into a centre-back at Blackburn that Hendry rose to prominence as one of the country's greatest defenders.
Neil McCann
Scotland caps: 26, three goals
Dundee appearances: 97 (1992-96 and 2011), 12 goals
A fans' favourite in dark blue at both ends of his career, the pacy left winger made his Scotland debut as a Hearts player in 1998 before crossing for Don Hutchison's winner at Wembley the following year.
Tosh McKinlay
Scotland caps: 22 caps
Dundee appearances: 204 (1981-88)
Left-back McKinlay played in three semi-finals for Dundee but had to wait till he was a Celtic player in 1995 to make his international debut. He would play at Euro 96 and World Cup 98.
'Time to look forward' Andrew Nelson has thanked the Dundee support after leaving the club by 'mutual consent'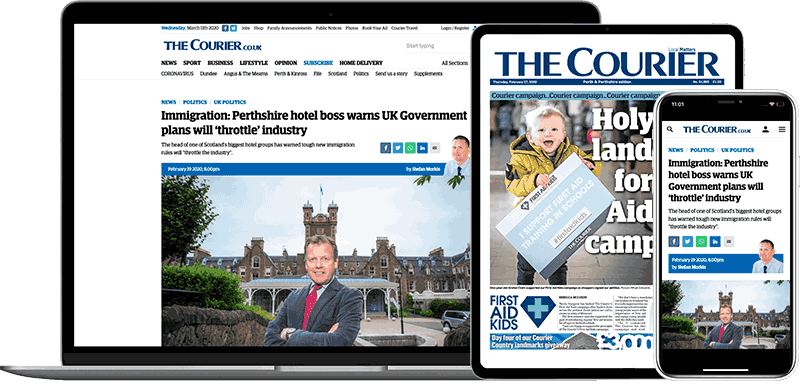 Help support quality local journalism … become a digital subscriber to The Courier
For as little as £5.99 a month you can access all of our content, including Premium articles.
Subscribe