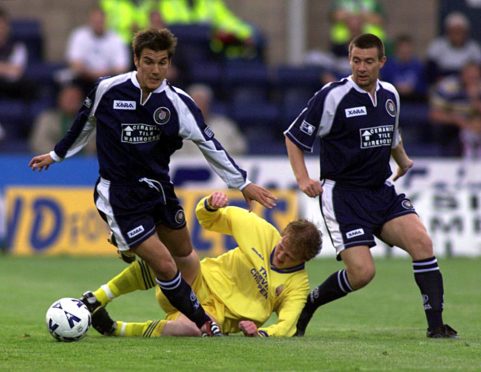 Spending most of your childhood years playing games of football with the liver bird on your chest, having the likes of Michael Owen, Steven Gerrard and Jamie Carragher alongside you as team-mates, is a football dream realised all on its own.
The same description applies to returning to one of the biggest clubs in the world as a coach and helping develop local boys who have contributed to drought-ending Premier League glory.
When Mike Yates walks the streets of his home city, or youngsters are hanging about outside the Liverpool FC academy buildings in Kirkby, nobody will be stopping him to ask about the bit in the middle.
The bit about his three years at Dens Park. The bit about nearly becoming an instant derby hero. The bit about being welcomed into a team-mate's family for Christmas day. The bit about his one goal and Willie Falconer nearly stealing it off him. The bit about coaching lessons that have stood the test of time. The Dark Blue bit he looks back on with affection and pride comparable to the longer chapters written in red.
The bare statistics of Yates' time on Tayside are a footnote for historians and unlikely to inspire any folklore passed down the generations.
But to understand his bond with Dundee, and what those seasons as a full-time professional footballer meant, you need to go far deeper than a modest number of appearances and an even more modest goal tally. And you need to go to the start of what is a rare, possibly unique, sporting journey.
"Michael Owen, Robbie Fowler, Steve McManaman…it would have been virtually impossible for me to break in."
There was nothing unique about a gifted young striker being spotted early by his local club, spending year after year playing academy football for them but not finding the offer of a full-time contract at the end of it, mind you.
Rejection is the norm rather than the exception. And given who his peers were at Liverpool – and the first team players who were the benchmark – to say the odds were stacked against the teenage Yates would be understating it.
"I signed in 1988, did 10 years and got as far a reserve team level," he said.
"I was growing up playing with the likes of Michael Owen, Jamie Carragher and Steven Gerrard.
"It was a really strong youth team. I must have been doing something right. You don't stay at Liverpool for that long otherwise. But there were a lot of others who kicked on and did more than I did.
"Once I got to reserves, it was one of those things. It wasn't going to happen for me. I played striker and right side and Steve Heighway (academy head) came round the house and just said: 'Look at what's in front of you'.
"At the time it was players like Michael, Robbie, Steve McManaman, Patrik Berger, Karl-Heinz Riedle, and Paul Dalglish was in and around the first team as well. There were five or six already ahead of me and it would have been virtually impossible for me to break in."
Heighway is a legendary name at Anfield and not just for winning 11 major honours as a player in the 70s, two European Cups among them. His work creating an academy worthy of the name at a time when its significance and stature was mushrooming beyond recognition from the loosely structured youth set-up that had gone before has put in place one of the strongest pillars the modern-day Liverpool now sits upon.
He could spot a player and, to the benefit of Yates, he could spot a coach.
"I know it's a cliché but I was brought up with the Liverpool Way," he said.
"Liverpool were still winning things in the 1990s, even if it wasn't the league title. It was still a huge club and I saw close-up the standards and expectations that go with being part of the club.
"From my point of view it was like having a second family – Steve Heighway, Dave Shannon, Hughie McAuley. All those coaches who were there at the time, plus all the Boot Room – guys like Roy Evans, Ronnie Moran and Dougie Livermore. They ingrained what we stand for and the standards that are expected.
"I gave everything I had to try and make it happen as a player at Liverpool. I really did. I was honest and I worked hard and I think that was part of what Steve saw in me.
"In those days we did a YTS programme and there were coaching qualifications. The club made sure we did them. So I was level two qualified by the time I was 18, as well as getting two extra A levels in business and finance.
"Liverpool then – and still do – looked after boys off the pitch. 98% aren't going to get through.
"When Steve came to my house that day he said: 'Look, I've seen you working. I like the way you communicate and work with players. We're building the academy in Kirkby and we need five full-time staff'.
"There were only four or five coaches running most of the teams, which seems crazy thinking back.
"I was working with the academy players and building links with schools in the community to create a buzz around Liverpool.
"He suggested I find a non-league team because I was just a young lad and he didn't want to take my football away.
"It was difficult to make that decision at such a young age and not try and find another professional football club to play for.
"I've always had a really good support network and it was a conversation with my dad. Sometimes you have to take a step back to take a step forward and I wasn't ready to come away from Liverpool at that time.
"What Steve took away from me with one hand, he gave with the other – you're not going to play for Liverpool but you're going to be a coach at Liverpool."
Heighway enabling and encouraging his newest coach to keep playing non-league football led to Yates finding his way to Dens and realising a lifelong ambition that he had assumed had passed him by.
"I was doing really well with the club I signed for, Burscough, and a number of scouts were keeping an eye on me," he said. "George Norrie, working for Dundee, was one of them. I think he came in to speak to our manager after we had played Gretna.
"My dad said to me: 'You can carry on coaching, you're enjoying it, but what have you always wanted to do?' My answer was: 'I've always wanted to be a professional footballer'.
"I knew that if I didn't do it, I'd regret it. I went on trial, absolutely loved it, loved the place, the people, the staff, Jocky Scott. I knew Dave Rogers, who was at Dundee at that time, and he helped me by letting me stay with him a couple of time. Everything about Dundee made it a great environment."
Signing in the summer of 1999, there was no gentle familiarising himself with the quirks and charms of football in Scotland and more specifically, the quirks and charms of football in the city of Dundee.
"It was Dundee United v Dundee on the first day of the season," Yates recalled. "That was my baptism of fire.
"Talk about memories. Jocky did his team talk at Dens and then we did the famous walk down the street to Tannadice. It was like a scene out of Braveheart with the players all walking down together and the fans lining the street.
"I was a sub and I must admit, I didn't expect to get on but Jocky put me on and that was my professional debut – a Dundee derby.
"In the last minute I broke down the right-hand side and Steven Boyack slipped me in. From what I recall I was on a tight angle. I thought about trying to find the bottom corner but the angle was too tight. So I fired it across the box to see if anybody could get on the end of it. I think Shaun McSkimming just missed it because Alan Combe got a fingertip to it.
"It would have been an amazing start if only he hadn't taken it off Shaun's toe."
Five more appearances followed in the next few months. And in the last of them, Yates got his goal. It was an opener against St Johnstone at Dens. When it turns out to be your one and only in senior football, it would take a cold heart to quibble with Yates' recollection of it being an "absolute rifle of a right foot".
"It was Boyack who put me in again," he said.
"Really, I was putting it into an area. As I was falling, I looked up and I could see Alan Main and I was thinking: 'He's missed that'. Just as Willie Falconer looked like heading it in, it bent away from him and went into the far corner. It looked brilliant!"
Nathan Lowndes has a lot to answer for.
"He scored two late goals to give St Johnstone the win," said Yates. "I can still see his finish now – the second one. He just turned and hit a snapshot from the edge of the box.
"It would have been nice to have scored a goal that earned three points but they were a good side. I think they were in Europe at the time and had just played Monaco.
"But I'd scored as a professional. Despite it turning out to be a short career, I'd been there and done it. I's scored in the Scottish Premier League. No-one can take that away from me, and my mum and dad were up to see it."
Injuries that season and the next prevented Yates from building anything resembling the sort of momentum needed for a forward to be a success at Dundee, particularly when you factor in a drastic change in the profile of the players being recruited.
"I had a lower back injury," he said. "I'd have a little run of games and then it would go again.
"When we were on the pre-season camp with Ivano Bonetti in Italy it broke down and he sent me to a specialist in Bologna. I was doing quite well at the time.
"I loved it with Jocky and didn't see his departure coming at all. He managed the young players really well – putting us on for 15 minutes here and there and then taking us out for our own good. He was a great communicator and, with being a striker himself, he had great advice to pass on.
"With Ivano, I was learning new systems and different runs. We went to a health farm in pre-season. I was happy to take on board different ideas and training methods. A lot of foreign players started coming in, which was the direction the club was going in. But alarm bells started ringing for a young player like me trying to get a game.
"You can say all day it is down to injuries but you have to hold your hand up and say at the time the players who were playing deserved to be in the team and I didn't."
Claudio Caniggia didn't have to justify his selection, that's for sure.
"Everyone has a World Cup, don't they? Mine was 1990," said Yates. "I can remember Mexico '86 but Italia '90 was the 'wow' one.
"And obviously I remembered Claudio in that Argentina team with Maradona that got to the final.  Looking back now, I wish I'd asked him a few more questions when we were at Dundee and picked his brains a bit more so I had a few more Caniggia stories to tell.
"But you don't think that way at the time. You're in a professional environment. He's in your position and you're trying to get in the team.
"We're talking over 20 years ago but I still remember his speed, the flair, the way he held the ball up. You could see straight away how good he was. Some of the goals he scored were unbelievable. He was a class act.
"I'd loved to have got to know him a bit more and understand him a bit more but what a player.
"And there was Caballero, Sara, Willie Falconer, Steven Boyack and James Grady. They were all really top players, top lads and top professionals.
"Yes, I wish I'd played a bit more but I've got no regrets."
Even when it had become clear that his Dundee stay was coming to an end, Yates was benefiting from coaching and player-management lessons that can still be applied in his current job of guiding budding Liverpool stars.
"Myself, Lee Wilkie and a few others were told to train with the youth squad because the first team squad was full," he said.
"So I ended up with Ray Farningham and Stevie Campbell – two top, top blokes. The training was outstanding with them. The way they shaped you as a young player and worked with you has stuck with me. Sometimes they would be tough with you but they would have a laugh at the right times as well.
"I actually got a new lease of life. Jinky (Farningham) suggested I went to Montrose on loan to get some games but again it was stop-start. I think I only started two."
Back across the border he went. A couple of lower league opportunities didn't pan out but a chance encounter brought Yates home to Liverpool and revived a career in coaching.
"My contract with Dundee ran out and I did really well on Stockport on trial," he said. "I was on the way to the stadium to sign when the manager got sacked. Carlton Palmer got the job and that was that.
"I was still only 21 and had a trial at Hartlepool as well before signing for Lancaster City in the Unibond Premier League.
"I had my Uefa B Licence so I thought I'd turn my attention back to the coaching and play non-league.
"The mad thing was I found my feet again at Lancaster and started scoring. We went to play a game at Altrincham. Iain Brunskill was a youth coach at Liverpool and was doing coaching at Altrincham. It was him who said to come in and see Steve (Heighway).
"Steve got me back into the club. I've worked my way through from the pre-academy and this will be my 20th season coaching at Liverpool. I'm the lead coach for the under-13s and under-14s now.
"It's a great place to be. Last season was fantastic for the football club and winning the league was a long time coming. I signed in 1988. They missed out on the league title with the Michael Thomas goal in '89 and that was the year of Hillsborough as well, obviously. But they won the league again in '90.
"I've seen quite a few things over the years I've been associated with the club. Everything is joined up now. To have a number of academy players in and around the team that has ended the 30-year wait is the icing on the cake.
"For me personally, being at Liverpool, coming away from Liverpool and playing professional football in Scotland and then coming back is almost as if I've had the best of all three worlds."
There is grounded wisdom to Yates that can be passed on to the Liverpool academy kids. It has been lived rather than learned. The professional playing part of his football life didn't last as long as he would have chosen or produce the medals that have been hung around the necks of his Ballon d'Or, FA Cup and Champions League-winning peers. But he feels no less fulfilled for it.
"You can talk about football all you like but it's life experiences that matter as well," he said. "I'm still in contact with Lee Wilkie, Paul Clark, Lee Mair and a number of others. Streaky brought an under-15 team down here a few years ago and I could pick up the phone to any of these guys.
"I've got a lot of good memories from the football but equally from outside the game.
"Clarky's dad had cancer when I was up there. I was a young lad, living in Main Street, Invergowrie and the family found out that I was going to be on my own on Christmas day. They said: 'We're not having that'. His dad wasn't well but they welcomed me into the family and I spent the full day with them and we went to the pub that night.
"I'm 40 now and I look back on things like that and think: 'Wow, what a diamond of a family'. What a gesture.
"The way I looked on my time at Dundee was that this is what I've always wanted and I'm just going to give it a go.
"Maybe I didn't do as well as I wanted to or Dundee supporters thought I was going to. This lad has come from Liverpool and they were expecting massive things. There was talk about me playing with Michael Owen and playing with Steven Gerrard. Should that have been played down? Should I have ignored it? You can't really do much about it, can you?
"I remember Jocky telling me I'd be starting against Aberdeen at Pittodrie and me phoning my dad to tell him he needed to come up. Liverpool to Aberdeen wasn't the easiest! But he came and he saw it. I knew the sacrifices my mum and dad had made.
"Now, I can go to see my dad and have a chat about the games I played in. I played against Celtic for 20 minutes and little things like John Barnes waiting for me in the corridor and saying 'How are you?' are memories that you cherish.
"My family knew how much it meant to me to pursue what I'd always wanted to do. I'm thankful Dundee gave me that opportunity.
"I tried to find my path."
It has been a path beginning and ending at Anfield. That it diverted via Dens Park will forever be a source of pride and accomplishment.
INTERVIEW: 'Find me the next Steve Archibald!' – Dundonian Aberdeen scout Paul Clark ready to return after coronavirus scare