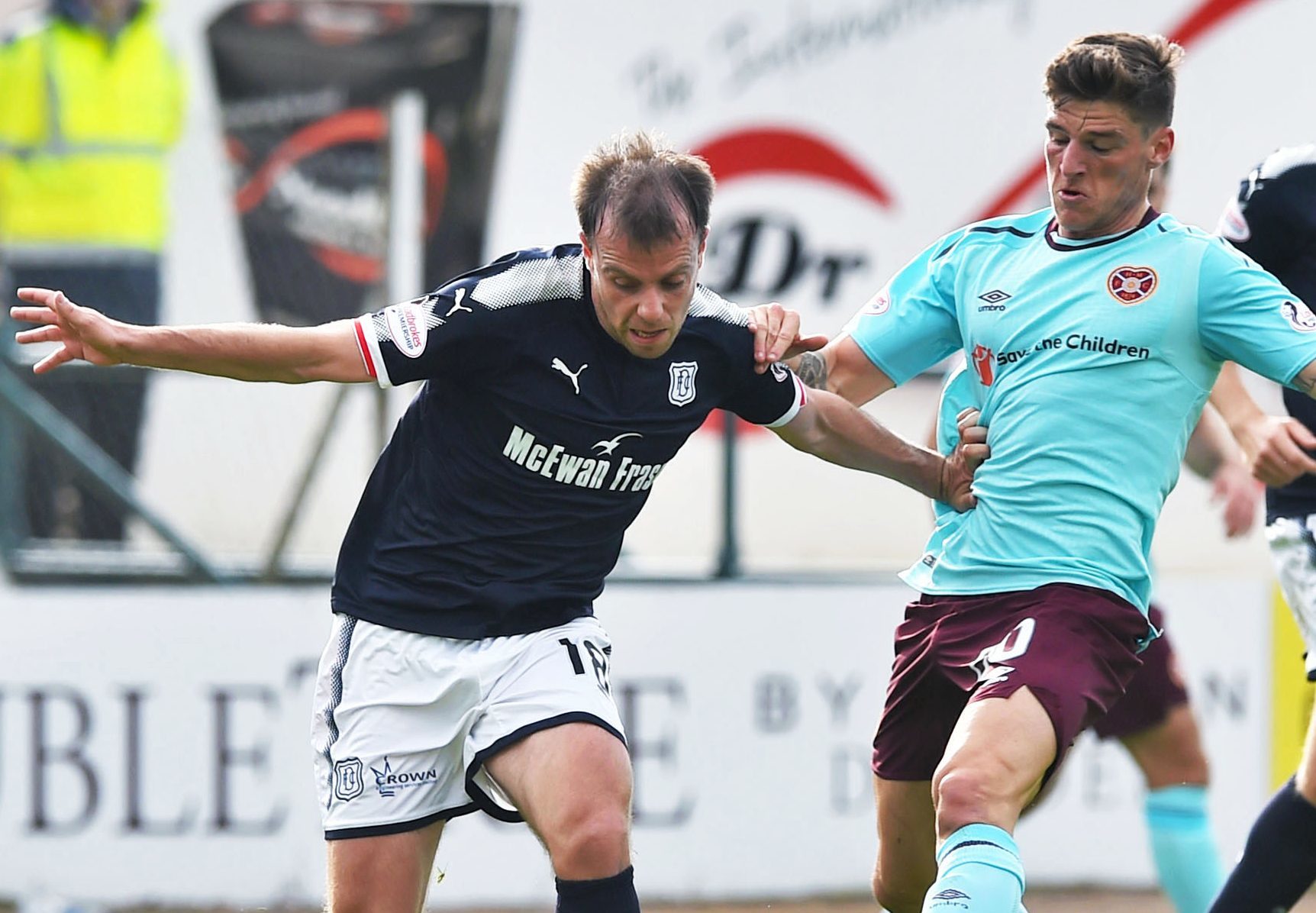 Being benched by Neil McCann has come as a culture shock for Paul McGowan.
But no toys have been thrown out of prams. No dummies have been spat.
And setting up a winner against Hearts on your return to the starting line-up was a pretty good marker to put down for the Dundee manager's next team selection after the international break.
"I'm not going to lie, it's been frustrating for myself," said the former Celtic and St Mirren man.
"A lot of players have come in and it's a new manager with new ideas.
"I've kept working away and I know what I can bring to the team. I've just been waiting for my chance. I'll never moan. I'll just keep my head down.
"Listen, that was the first time in my career since I left Celtic that I've been on the bench.
"It's been an eye-opener but I'm experienced enough to not let it affect me.
"I just have to impress every time I get a chance. There are good players not even getting stripped. We've got a big squad. That competition is good to have."
After Sofien Moussa had gifted Hearts' Kyle Lafferty his 71st minute equaliser with a stuff of nightmares passback, there had been precious few opportunities for Dundee to restore a lead that they had earned through Kerr Waddell's late first half header.
But when A-Jay Leitch-Smith's stoppage time shot was turned round the post for a corner, Waddell made no mistake again when he rose unchallenged and McGowan didn't let the moment pass  without enjoying it in front of the Hearts supporters who had goaded him all afternoon.
"It was sweet after the stick the Hearts fans were giving me and the names I was getting called," he admitted. "Emotions took over.
"It was light-hearted but I don't think they'll see it like that. That's football and I can take it.
"They're passionate about their club. They've just never liked me – I don't know what it is. I honestly don't. Maybe it's the Celtic connection. I must just have one of those faces that they hate!
"I've scored against them but it can't be that. If that was the case they'd be hating everybody."
There was plenty of self-loathing in the Hearts dressing room – and you could understand why.
For both of Waddell's goals the lack of attention he got in the box was glaring.
Christophe Berra "had never been angrier". His manager wasn't much happier. There's no doubt which team will enjoy their break more.
Dundee are up to eighth and have now won two and drawn one of their last three league games. That definitely represents the right sort of momentum.
"Wins breed confidence throughout the team," said McGowan.
"It's always good to get three points going into an international break and we're only looking up now.
"I felt we dominated the game in the first half. Then we were under the cosh a bit in the second half and lost a poor goal.
"Moussa's held his hands up. These things happen. He knew straight away. He's down about it but the gaffer's said to him 'it's gone' and that's true. Luckily we've gone on and got the win. That certainly makes it better. I couldn't be happier for the boys.
"We make mistakes together. We're a team and that's what got us through today."
Dundee have got the youngest side in the Scottish top flight at present and McGowan believes their less experienced players' "courage" has been a factor in the recent revival.
"If the young lads are good enough then play them," he said.
"You only get experience by playing. Kerr, Cammy and Spencey will only get better. I can understand why people say you need know-how in this league because it is tough but the young players here are certainly up for the battle."
There were times when some of the Dundee fans were letting it be known they wanted the ball out of their half more quickly and more directly but McGowan said: "I thought they passed out brilliantly in the first half.
"The fans are just a bit nervy which I can understand.
"The manager's telling the boys to keep playing. We were getting out and it was working for us.
"It takes brave players to do that and fair play to the young lads for having the courage to take the ball and play.
"I said to the players at half-time 'fantastic'."
There was no hiding McCann's displeasure with Moussa during the match. After it he reflected: "It was the first thing I addressed in the changing room after the game.
"I told him it was unacceptable and that it was a crazy decision. But we're trying to build something. It's a team game and you'll make individual errors, but at some point he'll dig out a team-mate.
"It wasn't a firing squad. He was told I wasn't happy with it but his team-mates rallied round him."