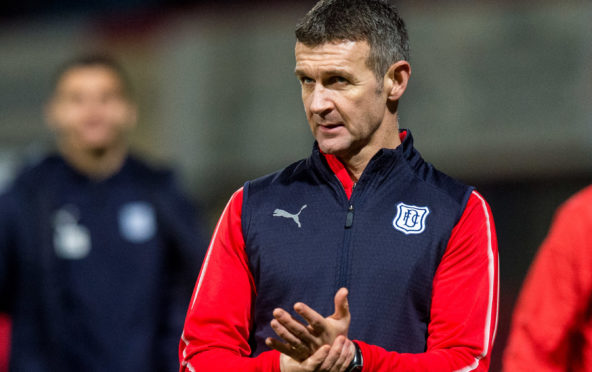 Dundee boss Jim McIntyre is hoping that the security of a long-term contract can help striker Andrew Nelson realise his potential and feel wanted again.
The 21-year-old has scored three times in five appearances since signing for the Dark Blues in January including both his side's goals in last week's 2-2 draw with Killie.
Nelson was snapped up from Sunderland for an undisclosed fee with the player's contract at the Stadium of Light set to end this season.
The player has had loan spells at a succession of clubs including Harrogate, Falkirk and Darlington with McIntyre hoping that the stability of a permanent deal at Dens will now help him flourish.
The manager said: "Andrew has a lot to learn but he has the raw ingredients to be a very good player.
"There is still a lot of work required but the great thing about Andrew is that he is desperate to learn, he listens to what you are saying and he takes in information.
"He is a work in progress but he did fantastically well in the first half (against Killie) although there were a lot of things he could have done better in the second half.
"I think when you are a young lad who has come from a big club and you have been loaned out a couple of times, there is that need to feel wanted.
"We have given him the security of a two-and-a-half-year deal because we have a great belief that he can do really well here and grow as a player.
"The rest is really up to him but as I say, he is a great kid who is desperate to learn."
McIntyre will still be without long-term injured Andrew Davies (finger operation) and keeper Jack Hamilton (hand op) for Saturday's game but the manager revealed both are making progress.
He added: "Young Robbo (Ethan Robson) picked up a wee groin strain but he is nearly there.
"He has not had a lot of regular football and had injuries earlier in the season so you are more susceptible to picking up wee things.
"But there is nothing that is too major so we should be OK come the weekend.
"Jesse Curran is making progress. We were hopeful that he might have a chance for Livingston but that won't be the case now.
"Andrew Davies is coming along brilliantly.
"He will go onto the anti-gravity treadmill next week which we will let him do down south as there isn't one in Dundee.
"There is one close to his home and he will be on it every day. That will really help aid his recovery.
"Jack Hamilton is also coming along fine."