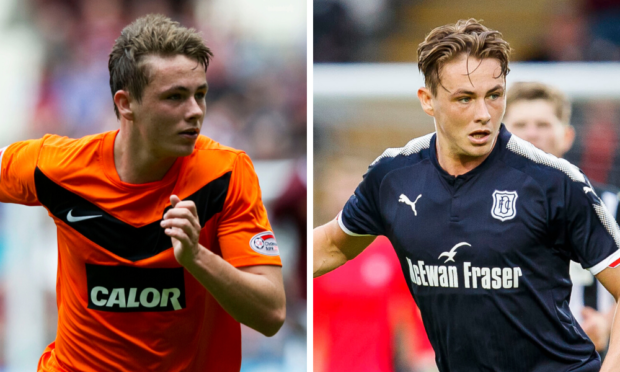 Former Dundee United star Scott Allan has told how he was hospitalised in France after suffering a hypoglycemic attack on a Tangerines youth trip.
The Hibs playmaker – who also had a loan spell at Dundee in 2017 – has had type 1 diabetes since the age of three and takes regular insulin injections.
A 'hypo', when the blood sugars drop too low, can be dangerous if it isn't treated promptly.
Reflecting on the incident that happened after a tournament abroad with United, he said: "At the very end of it, we stayed an extra day and there wasn't a lot of food left where we were staying.
"That night I took such a bad hypo that I lost consciousness in my sleep.
"Apparently I fell out of the bed and it was the bang of that which woke the boy I was rooming with.
"I woke up in hospital in France but I had no memory of the previous days.
"My mum was worried sick. When I was a kid she was over cautious – testing all the time.
"But without her there's no way I would have made it as a professional."
Nearly three years ago, Allan had a 'hypo' at Ibrox while starring for the Dark Blues against his Rangers.
The midfielder – who rejected a move to his boyhood heroes two years earlier – was substituted by manager Neil McCann eight minutes before half-time and fans assumed an underwhelming display was behind the decision to replace him.
But now Allan, 28, has revealed the real reason his afternoon was cut short.
He said: "I had a really bad hypo once when I was playing for Dundee – we were playing Rangers at Ibrox and I knew within the first 20 minutes that I was starting to hypo.
"I was trying to get a drink and get some sugar into me and just make it through until half-time.
Former Dundee United midfielder Scott Allan says he never wanted to leave Tannadice
"But it got to the point where I couldn't see the ball. I could barely move my legs.
"My vision was gone, I was dizzy and the boss Neil McCann hooked me after 37 minutes.
"I took pelters off the Rangers fans that day because they all thought I was shocking.
"I didn't even say anything to the manager at the time because you never want it to look as though you're making an excuse."
The Diabetes UK ambassador recently opened up on being separated from his family, including mum Pamela who has multiple sclerosis, during the coronavirus shutdown.
He is also having to limit his time with four-year-old son Zac.
Allan said: "There have been a lot of diabetics who have had the normal flu who have died.
"That's why you're warned to get the flu jab as soon as possible around autumn time.
"I've always been alright and I've never really had that. This is a guessing game for the public though.
"You just can't see it — and you just don't know the effect it could have.
"People talk about underlying health issues but a lot of people between 20 and 40 don't know if they have underlying health issues because they don't get checked.
"Everyone can look good on the outside but you just don't know what's going on underneath."
EXCLUSIVE: Dundee United legend Maurice Malpas tells club's fans he feels their pain over uncertainty caused by coronavirus shutdown