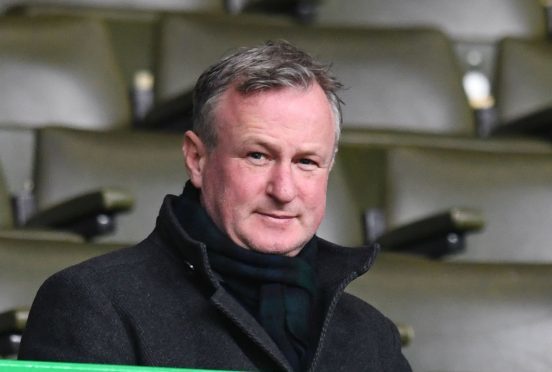 Stoke City remains a potential next destination for Dundee United striker Lawrence Shankland.
The English Championship club were linked with the prolific striker in the January transfer window but the Tangerines sent out the message that they weren't willing to do business.
The end of this season – whenever that will now be – was thought to be a much likelier time for a big money move for the former Ayr United and Aberdeen man.
And Stoke manager Michael O'Neill has admitted that the Scottish market is one he is paying close attention to.
O'Neill told StokeonTrentLive: "The problem people have with Scottish football is that they probably watch it on television and at times it doesn't look like a great spectacle because at certain games the stadium is a little bit empty, while the other thing is you see games on artificial pitches.
"It's about assessing the level of play and then trying to benchmark whether those players could step up and play in the Championship.
"There are players there that have clearly done that, the likes of John McGinn (Aston Villa) and Kenny McClean who went to Norwich, and both of them got promoted with their teams and were very important players to their teams.
"So it's about trying to find that level of player."
O'Neill stressed that he is prioritising young talent. As well as Shankland, he is sure to know all about the potential of St Johnstone's Ali McCann given the fact he has already seen the 20-year-old midfielder close-up in training with his Northern Ireland squad.
"The attraction of the market is that players from Scotland going down to England see it as a massive opportunity," the former Saints and United man added.
"It's a much bigger league and obviously financially it's far more rewarding.
"Typically, you'll get a player with a good attitude who is hungry to succeed.
"The other thing about the Scottish Premiership is that there are a lot of young players.
"You can come up here and find 21 year-olds who've played a hundred games and that's quite hard to find in English football, certainly in the Championship and Premier League level.
"What's happening up here, as a result of the financial struggle, is that clubs have to develop their own players and that means at every club, typically, there are young players getting the opportunity to play first-team football."
Family's pledge as 60th anniversary of Dundee United captain's Oscar win scuppered by coronavirus