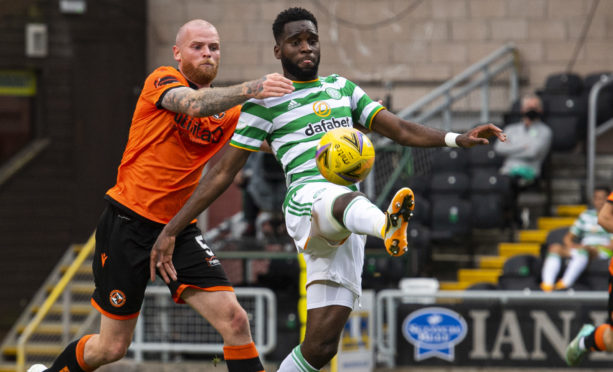 Mark Connolly believes Dundee United are answering their Premiership doubters with every game that goes by.
The Tangerines may have lost 1-0 at home to Celtic on Saturday but the performance level was such that you could easily forget that one team were nine-in-a-row champions and the other had just been promoted from the Championship after four frustrating seasons.
With the help of encouraging, positive and clear instructions from the sidelines from manager Micky Mellon – audible in the absence of supporters – Connolly and his colleagues ran the Hoops close at Tannadice.
It was yet another example of how they are enjoying life in the top flight and the Irishman thinks they are proving their doubters wrong.
Connolly, who played exceptionally well against Celtic star man Odsonne Edouard, said: "There have been a lot of questions asked of us as a team coming up from the Championship.
"People have asked how we would cope.
"In my opinion, we have proved everyone wrong.
"As a football club coming up to the top flight after four years out of it we are showing ourselves in a good light.
"People had written us off before the season had even started.
"Are we good enough? They didn't think we were good enough.
"We have only played five games but we are disappointed we haven't got something out of every single one.
"If you looked at the match on Saturday we didn't sit off Celtic too much, we pressed them as much as we could, we made them make mistakes and we put them under pressure.
"In those kind of games you only get a few chances but the chances we had were good chances.
"We were really, really disappointed that we didn't get something.
"In the dressing room we were absolutely gutted."
Connolly noted that, after scoring in the 83rd minute through Albian Ajeti, the Hoops were happy to play for time in the closing stages rather than look for a second goal.
He said: "Listen, that just shows you how well we did.
"Normally they are going to want to get two, three, four goals but we are a very fit team and we pressed them all over the park."
Mellon has been keen to stress the size of United and the expectation on them to not just survive but prosper in the Premiership.
Connolly agrees with his gaffer, adding: "He's not just saying it for the sake of saying it – he's saying it because it's right.
"We are a big club – one of the biggest in Scotland.
"We know that and we are buying into that.
"We feel that pressure but I think we are handling it well.
"The manager is just asking us for 100% effort.
"The quality is there – that will show – and we must give absolutely everything in every single game for him and the club."
Connolly signed a new deal earlier this month and with his future settled until 2023 at least he is thriving under Mellon's management.
"That was huge for me and I think that has shown in my performances," he said.
"I feel comfortable at the club.
"My wife and two kids are here. We've bought a house in Dundee and we're here for the long run.
"I am really enjoying it and buying into what the football club is about.
"I know how a big a club Dundee United is and I know there were years that didn't go too well when they were relegated. I wanted to come in and help out and be a positive attitude around the place ,like all the boys have been.
"For me personally, it (the contract) has been huge. It is letting me concentrate on the football.
"At 28 I am at a good age and I want to help younger players like Lewis Neilson, Kieran Freeman and the other young boys. I have experienced a lot in football but I want to help these boys as well."
The challenges don't get any easier for the Tangerines as next up is a Tannadice friendly against English Premier League side Sheffield United tomorrow afternoon (2pm kick-off).