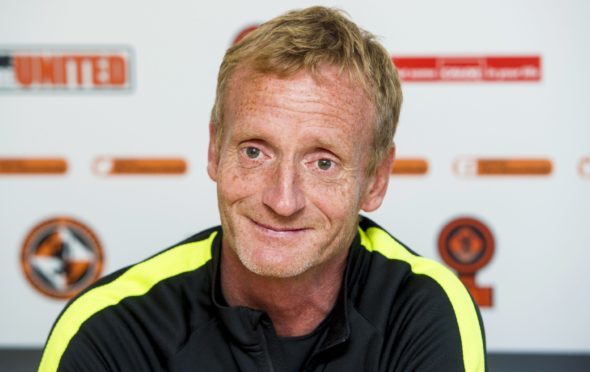 Dave Bowman already thinks Ray McKinnon is a Dundee United "legend" and he believes he will be a success as manager.
Bowman will play alongside the man the Tangerines have lined up as their new boss in the fundraising Fans v Legends match on Tannadice on Friday, with proceeds going to charities fighting against – and raising awareness of – skin cancer.
By then, McKinnon is expected to have been installed as Mixu Paatelainen's replacement.
Talks between club and coach took place yesterday and the former Tannadice midfielder may even attend United's final home match of the season against Partick Thistle tonight.
His old United colleague is certainly backing him to be a perfect fit once the move from Raith Rovers is confirmed.
"I have known Raymie since he arrived at Tannadice as a kid, aged only 16," said Bowman.
"I used to tell him that he had more ability in his pinkie than I had in my whole body, and I played 800 games and was capped by Scotland.
"I remember one match in particular when he was about to take a corner with his right foot and he changed to his left at the last minute.
"Everybody thought he was being cocky but he wasn't – it was just that he didn't have a weaker foot.
"He also famously scored a hat-trick of freekicks in a game against Kilmarnock and I can tell you he mentions that now and again!
"He should have done more as a player and certainly should have played for Scotland.
"Sometimes, though, guys with bucketloads of ability maybe don't do themselves justice.
"Perhaps that has helped him as a manager, though, because you can see your own pitfalls as a player and perhaps pass on advice to others.
"What I would say, as well, was that he wasn't a tearaway – far from it. He was just a young boy.
"I haven't worked under him as a manager so I don't know exactly what he will be like but I can say that he knows how to get the best out of the players he has.
"He has done brilliantly at Brechin and latterly Raith Rovers.
"Tactically, I believe he is very good.
"I saw Brechin a number of times when he was there and he you could see that he is tactically very astute.
"He is also a United supporter.
"He ticks all the boxes and has gone up through the ranks from the juniors with Lochee United to the Championship."
Bowman emphasised the risk McKinnon took when leaving his job as a development officer at the SFA to head to Glebe Park in the autumn of 2012.
"He had a cosy number with the SFA but jacked that in to become Brechin manager," added Bowman.
"Indeed, Donald Park (SFA head of coaching education) – someone I respect a great deal – spoke highly of Ray when he worked there.
"He left that post to take on the Brechin job and that showed he has confidence in his ability to be a manager."
Bowman's legends team to face the supporters' select will contain McKinnon and the likes of Gary Bollan, Grant Johnson, Lee Wilkie, Jamie McCunnie, Stuart Duff and Jon Daly.
It is a cause close to Bowman's heart.
He said: "It's a good game for the fans as they get to play on Tannadice.
"Also, the supporters who think football is easy maybe find out that's not the case!
"It's also good for the ex-players to get together.
"This has been going for seven years now.
"It first happened after a young guy Ally Watt tragically died and I didn't know much about skin cancer at that time.
"We also had Jordan Moore here who got it and it's a horrible, horrible thing.
"Everyone thinks about being careful when going to Spain for a fortnight but the UV levels in Scotland are probably some of the worst.
"It can affect anybody.
"Young Ally never really went on holiday and it was a mole on his back that he had.
"As it was on his back he never really noticed it but once it gets into your system then it's really serious.
"Jordan had a mole on his chin and he dismissed it at first.
"It's a terrible disease."
Kick- is at 6.30pm on Friday and fans can still bid to take part, with the chance of winning a shirt signed by the legends and current players.
For more information, please contact mybid@dundeeunitedfc.co.uk.