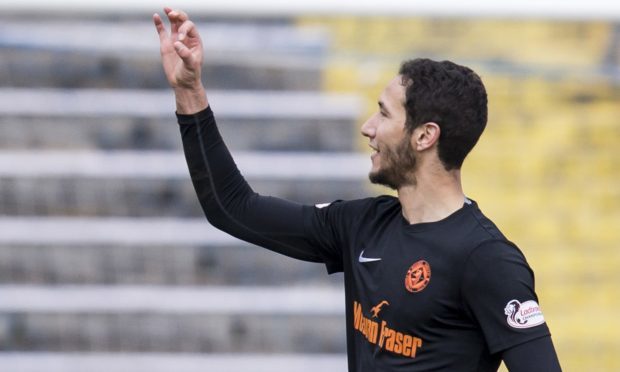 If there was any thoughts that the pressure wasn't getting to Dundee United, as the Tangerines desperately strive to secure a precious place in the end of season Championship play-offs, that thought was completely dispelled on Saturday by the actions of two players at the end of the match at Cappielow.
An equaliser for the hosts deep into injury time denied United, who have now won only once in their last 10 matches and have now gone five games without a win.
At the final whistle it was all too much for Tunisian Bilel Mohsni, who, until the last-gasp leveller, was set to celebrate as United's goal hero and what would have been a more than well-earned three points.
But Morton substitute Frank Ross curled the ball past Tangerines goalkeeper Harry Lewis direct from a corner on 93 minutes, with the aid of a deflection off the head of Billy King.
It was all too much for a fuming Mohsni, who had been the target of abuse all afternoon from a group of fans enjoying hospitality from the Cappielow club.
When referee Don Robertson signaled the end of the game seconds after Ross's equaliser, the ex-Rangers defender refused to shake hands with the Morton players and headed straight for the home fans who had been berating him, making a zero gesture with his hands, and sprinted past home boss Jim Duffy, again refusing a handshake from the former Dundee boss.
Duffy said afterwards: "I was surprised at Mohsni as it looked like he was celebrating a win at the end.
"He was doing a zero sign to our fans. If you're scuba diving then that means you're OK. I'm a qualified scuba diver, honestly."
The United defender was far from OK, and team-mate Scott McDonald was even more furious when he left the dressing room after the match to begin a cool down.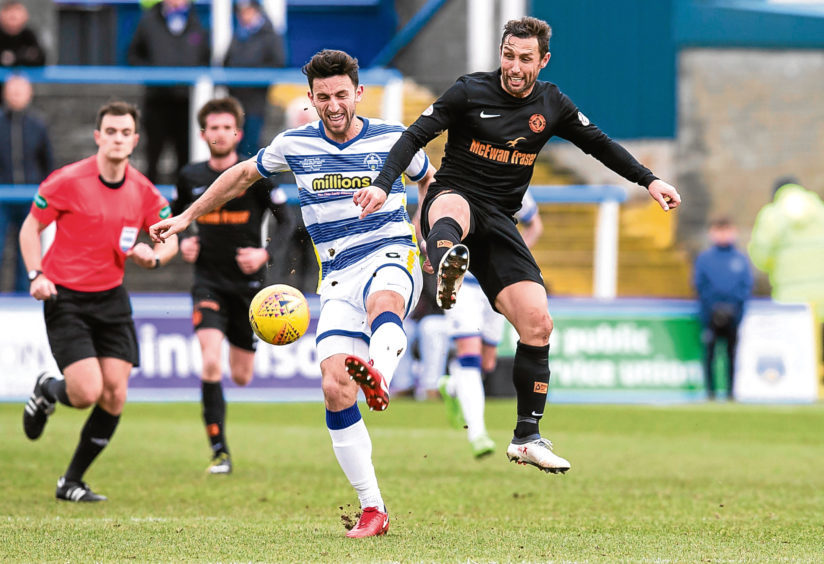 The Australian striker nearly took the Cappielow tunnel door off its hinges with a right hook of Anthony Joshua proportions, followed by an angry tirade aimed back at the away changing room.
It was a second serious show of petulance on the day by McDonald, who had earlier punched the dugout wall after being replaced by manager Csaba Laszlo with Scott Fraser six minutes from time.
The pressure is definitely telling on all at United as they slipped behind Dunfermline on goal difference and out of the play-off places, though they do have two games in hand, starting tomorrow with a home meeting with Dumbarton.
Mohsni said: "A minute before and we have three points and we were in third position.
"We were the better team. They had no chances apart from a couple of corners and the whole team is frustrated, me too. I like playing with fans, but my target is to help my team to score."
Mohsni gave United the lead after 59 minutes when he rose to get on the end of a Paul McMullan corner and power a header past the previously-inspired Morton goalkeeper Derek Gaston.
United should have put the points to bed in a dominant first half, but Gaston produced a string of wonderful saves, two from McMullan being the best of them.
"We are very disappointed but that's football," added Mohsni.
"We have to be strong and confident on the ball and that's what we've been missing in the past couple of games.
"If we keep playing like the way we played on Saturday we will secure a play-off place, hopefully.
"With the week we've had there is a lot of pressure, but I don't mind it.
"First game draw, second game losing, third game draw. I was expecting to have the team better. Hopefully if I start, we win."
United have two games in hand over both Morton and the Pars above them, but Mohsni does not see this as an advantage.
He added: "We have a lot of games, and this is difficult too playing every Saturday and Tuesday. Sometimes we are fresh, sometimes we are tired. It's very hard."
Boss Laszlo said: "Everybody knows it is not nice to lose three points in the last seconds. We have to look forward with the two games against Dumbarton.
"We can't lie down. We have to concentrate about the next game, and if we perform like this we can collect the three points against Dumbarton."
Livingston moved nine points ahead of United in second place, having played a game more, with a 3-0 win at Dumbarton on Saturday.