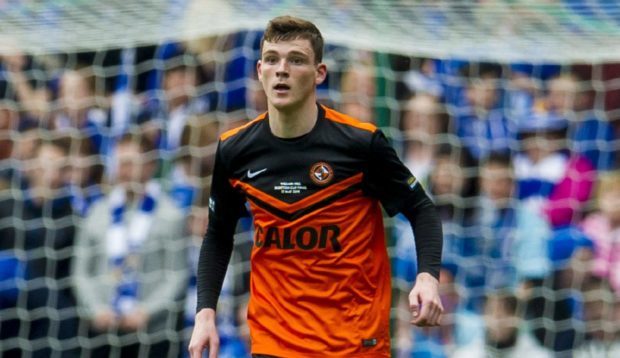 Sean Dillon isn't surprised that Andy Robertson has become the pride of Scotland on his way to the Champions League final.
Dillon, who played alongside Robertson at Dundee United in season 2013-14, was glued to the TV on Wednesday night to cheer on his former Tannadice teammate.
Robertson produced yet another quality display for Liverpool in the Stadio Olimpico as the Reds beat Italy's Roma an incredible 7-6 on aggregate to reach the May 26 final in Kiev against Spanish giants Real Madrid.
Scottish football has one of its own battling with the very best and, despite being a proud Irishman himself, Dillon fully understands why Robertson's home country is sharing in and enjoying his success.
Dillon said: "Andy's emergence is brilliant for the whole of Scottish football and I'm sure everyone will be behind him when the final comes around.
"I remember growing up in Ireland and Roy Keane was the top man who everyone looked up to.
"He was the captain of Ireland, playing for Manchester United winning titles and the Champions League.
"He was the Irish superstar and people used to love watching him and seeing him do well.
"Andy can be the same.
"Even though he doesn't play up here any more, Scottish people know they will get the benefit of him for the international team.
"It has been a long time since a Scottish player played in the Champions League final so it will be a massive thing for the country.
"Darren Fletcher missed out a few times with Man United but hopefully Andy will get there in one piece and get his hands on the trophy.
"Perhaps the biggest thing I can say about him is that none of what's happened since leaving United has surprised me.
"He went to Hull and was their best player. Was that a surprise? No.
"He made his Scotland debut and slotted in no bother at all at that level, which was no surprise either.
"And it wasn't a surprise to see a big club like Liverpool come in for him because of how he'd played since he went to England.
"It really is an incredible story but the biggest praise I can give him is that he's earned it.
"He took the chances that have come his way and nobody who has played with him will be shocked to see him on that stage."
Dillon couldn't pick out one particular moment after his arrival from Queen's Park when he thought Robertson would reach the top.
He said: "I don't think there was a specific point where I looked at Andy and thought: 'Yep, he's got something special.'
"Maybe others did and maybe our gaffer Jackie McNamara did but what struck me was the way he just came in, rose to the challenge and produced consistent performances from day one.
"I can't remember looking at him thinking of things he needs to work on.
"He pretty much had everything.
"I'm not going to say that I thought he'd be playing for Liverpool or in Champions League finals or anything like that because you can never know that.
"I think a lot of people down south would probably have wondered about him.
"They probably thought who is this boy from Scotland who only cost a few million quid a couple of years ago.
"But they won't be thinking anything like that now because he's probably the best left-back in the country at the moment with the way he's playing.
"Even by Liverpool's standards he was a pretty low-key signing but you wouldn't get him for anywhere near that now."
Dillon admitted it is nice on a personal level to see someone you worked with reach such dizzy heights.
He said: "You always look out for your old teammates.
"Some of them are in Sunday league football now and then you have Andy who is going to play in the Champions League final.
"On top of that, you have Stuart Armstrong winning another title, Craig Conway has been promoted, Barry Douglas has been promoted.
"So many of the lads are doing different things and doing well – but what Andy is doing is just incredible.
"I keep in touch with him now and again. I text him when I see him playing in big games and stuff.
"He's a very humble lad, he always gets back to you and I'm sure he has loads of other people texting him as well and his phone is red hot.
"Andy was very popular at United, around the club and among the fans, and I'm sure everyone will be willing him on when the final comes around."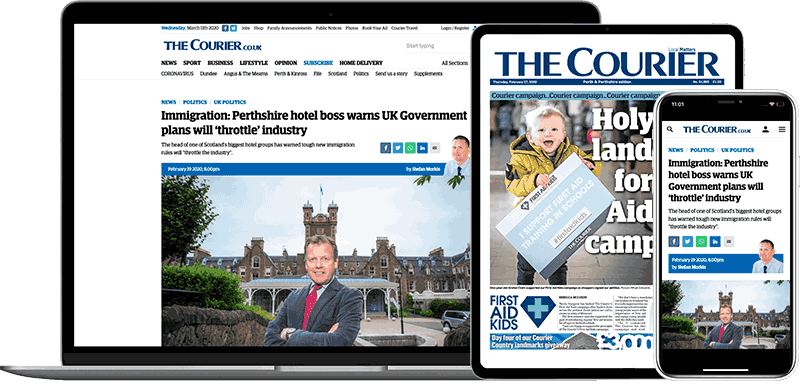 Help support quality local journalism … become a digital subscriber to The Courier
For as little as £5.99 a month you can access all of our content, including Premium articles.
Subscribe