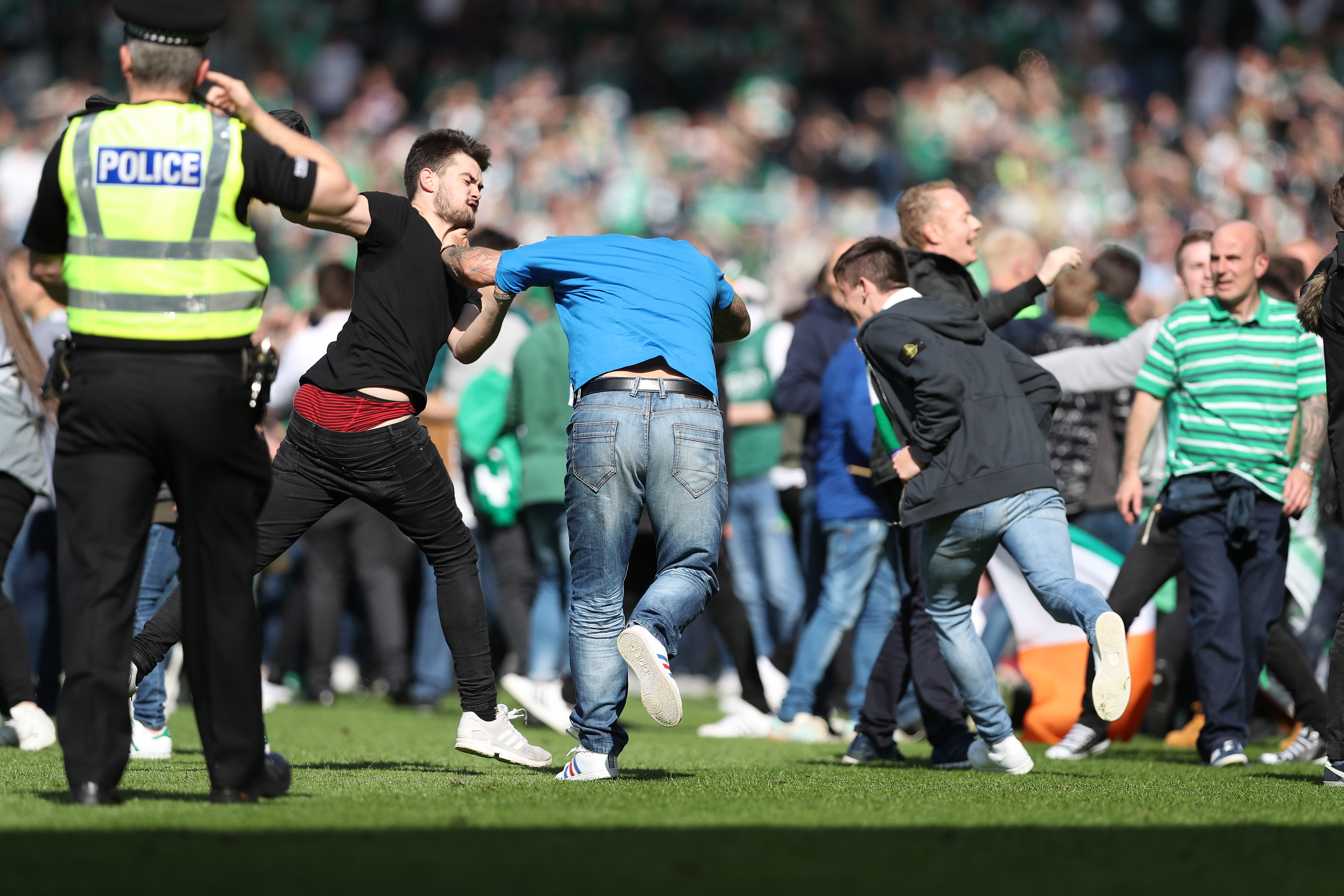 A police probe into the shameful scenes which marred the Scottish Cup Final has been launched.
Several Rangers players and staff, including assistant manager David Weir, became involved in confrontations with fans as police failed to control supporters.
Thousands of Hibs fans charged onto the pitch following their historic victory over their Glasgow rivals.
Dean Shiels, Jason Holt and Lee Wallace were also assaulted by Hibs fans.
The goalposts at the Hibs end of the ground were broken down during the melee.
Rangers fans, too, entered the pitch after being goaded by jubilant opposition supporters.
Mounted police eventually got the situation under control, but not before violence had unfolded.
Stewart Regan, chief executive of the Scottish Football Association, said the body was "appalled by the scenes of disorder and the contemptible behaviour" after the final and that a full investigation would be carried out along with Police Scotland.
Mr Regan said in a statement: "The Scottish FA is appalled by the scenes of disorder on the field immediately after full time and at the contemptible behaviour that ensued.
"What should have been an historic, memorable Scottish Cup final will now, sadly, be remembered for all the wrong reasons.
"Police Scotland and the stadium management initiated a crisis liaison group as soon as the disorder began and we thank them for containing the situation as quickly as possible.
"The Scottish FA, along with Police Scotland and the stadium management, have initiated a full investigation into the scenes that unfolded to understand how such a volume of supporters were able to enter the field."
Police Scotland Chief Superintendent Kenny MacDonald said in a statement: "Following today's Scottish Cup Final at Hampden, a significant number of fans ran onto the pitch following the final whistle. Officers, including the Force's mounted branch, responded and brought the matter under control as quickly as possible.
"We understand that feelings run high at these events and fans want to celebrate their team's win, however the reckless behaviour of fans entering the pitch is totally unacceptable and inexcusable. This created a significant safety issue.
"This action led to an outbreak of disorder between rival fans on the pitch. A dedicated investigation team is being set up to identify those who have carried out these acts of disorder and violence."
A spokesman for Rangers said: "Rangers players and staff were assaulted by these fans who invaded the pitch and in the interest of their safety did not return to the pitch for the medal presentation.
"There can be no place for the violence seen at the end of the final and Rangers fully expect the Scottish Football Association and Police Scotland to launch an investigation to find out where security measures failed and why.
"The club would like to commend Rangers fans for the restraint they showed under severe provocation."
Hibs chairman and SFA President Rod Petrie said: "I don't think it was going to be calamitous.
"I think the police and steward and everyone at Hampden Park deserve great credit for the manner in which they dealt with the situation at the end. One-hundred-and-fourteen years of exuberance, it meant that we had to wait a bit longer for the presentation.
"I was deeply disappointed when it happened.
"I am not playing anything down anything that has happened, what happened was a team won the cup and the over exuberance of a number of supporters took them on to the pitch which is unacceptable and I am sorry it happened and it had to be dealt with but I think was dealt with in a professional manner."
On claims of assault of Rangers players and staff he said: "I am not aware of a complaint but if something has happened to a player or member of staff, that is a very serious matter and we will co-operate fully.
"I am very sorry that the Rangers players felt they were unable to come back out and receive their medals.
"I fully expect there will be a detailed examination of what has happened to learn the lessons and we are ready to contribute to that.
Asked if he thought it had been a perilous situation, Petrie said: "It is perhaps an exaggeration but I am happy to participate with the SFA on a review of what happened. "
Petrie refused to admit that if Rangers players and staff were proved to have been attacked by Hibs fans, it could be termed disgraceful.
He said: "If that is what has happened that is unacceptable and anyone who can be identified will be punished.
"You say it is disgraceful I say it is unacceptable, we don't condone it in any manner. Fighting on a football pitch is unacceptable, absolutely."
You could call it disappointment, embarrassment, I wish it hadn't happened and I don't think it will reflect well on the game."
The violent scenes followed a dramatic cup final which saw Hibs score two goals in the final 10 minutes to gain the first Scottish Cup success since 1902.