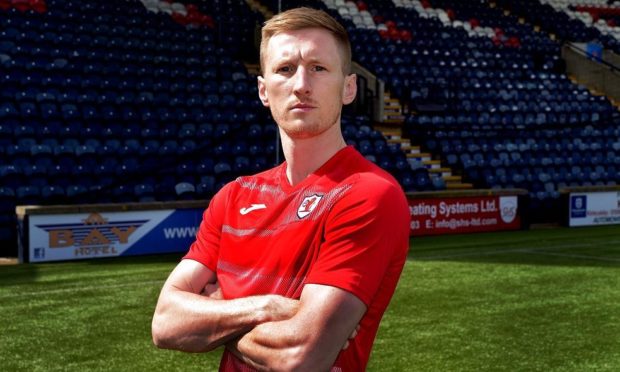 Liam Dick insists only the 'perfect' opportunity to return to full-time football with Raith Rovers could have tempted him away from a his role aiding children with learning difficulties.
The 25-year-old embarked on self-improvement during six years with Stranraer, Dumbarton and Alloa, recently completing a higher English course at Perth College via Zoom while working at St. Modan's High School in Stirling.
With a conditional acceptance to further learning at Stirling University and tentative plans to become a PE teacher, the notion of earning a living solely from football — as he did as a youngster at Falkirk — seemed to be fading.
That was, however, until Rovers tabled an offer to take him to Stark's Park.
"I always had aspirations to get back to full-time football," said Dick, who signed a two-year deal earlier this week. "That is the dream you have as a youngster: waking up and going to play football as your job.
"However, it needed to be the right club and the right opportunity because I think everyone realises now, footballers aren't earning a fortune. It was a big decision.
"I was working as a support teacher at St. Modan's High School, helping some of the kids with challenges like autism and ADHD [attention deficit hyperactivity disorder]. I loved that job.
"The kids were wonderful and it was so rewarding. My colleagues were terrific from the minute I first walked in the door.
"I said to my boss: 'The only thing that will make me leave this role would be the opportunity to play full-time football at the perfect club'. That chance came with Raith."
Rovers' free-flowing, attacking style of play under John McGlynn was a prime reason a switch to Kirkcaldy was impossible to turn down.
Dick spoke to Courier Sport mere 24 hours after both of the club's full-backs from last term, Reghan Tumilty and Kieran MacDonald, were named in the 2020/21 Championship team of the year.
He will be charged with replicating the impact of MacDonald, who is closing in on a move to Hamilton.
"I looked at the way the full-backs played specifically," he continued. "They get up and down the pitch and are encouraged to push forward and create things. That was really attractive.
"I saw Kieran being named in team of the year and you do think: 'Big shoes to fill!' That won't be easy but if I can play half as well as Kieran and Reghan [Tumilty], then I'll be doing okay."
Dick is one of a plethora of new faces who will report for pre-season testing on Friday, with Aidan Connolly, Christophe Berra, Dario Zanatta, James Keatings and Tom Lang making up the new faces.
The lofty aspirations, however, will remain unchanged.
Dick added: "You look at the make-up in the Championship this year, specifically without Dundee and Hearts — two giants — and I feel like it will be a lot more open. There's no reason why we cannot finish in the top four."
Brad Spencer signs new deal with Raith Rovers as Stark's Park side fight off suitors