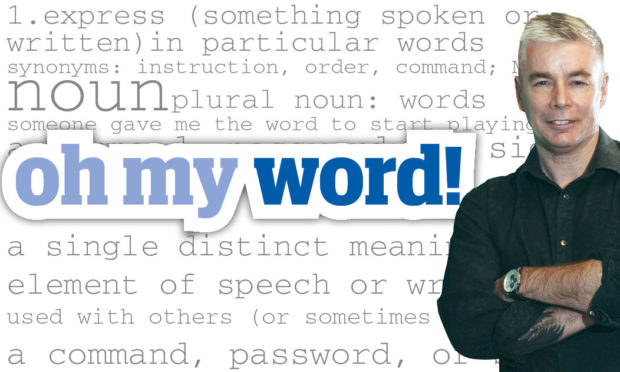 Most of us have come to enjoy the performances of the sign language interpreters who stand behind politicians as they give out their bad news. When first considering how important this job is, I wondered if it might be difficult to express the nuance between words like epidemic and pandemic, or infectious and contagious, using only hand signals. Then there are the new terms we have to understand: R-number, social distancing, shielding.
But this is doing signers a disservice. Their language will be as capable as any of coping with new ideas. They will find ways to express emerging concepts.
I admire the speed sign language interpreters go at. I know there are different sign languages and wonder if signers have regional accents, or if there is a gesticular equivalent of the Scots "numny" (no I am not)? And I enjoy the way signers employ facial expressions, torso movements, and tilts of the head to express tone, punctuation and grammar.
Perhaps we should all use sign language if tone, sarcasm, and a level of humour can be adroitly covered by an arched eyebrow. Every day I see examples of written communication that leave readers baffled as to whether humour was intended or offence should be taken.
Indeed, I am often amused when huffs are huffed because a text or email appeared terse, cutting, or mocking, though the sender had no such intention.
I suspect sign language isn't immune from the problems of modern communication. There will be sullen teenagers who mumble signs, and slothful drawlers who slur their hand signals.
Perhaps this is a sign of our times.
Bad communication, no matter the format, can be cured by one simple measure: explain yourself. Get your message across in a manner that leaves the reader, listener, or signer, in no doubt what you mean.
English is wonderfully expressive tool. It has hundreds of thousands of words, with myriad nuances of meaning, in which any emotion, conviction or concept can be cleverly, candidly and convincingly expressed.
Importantly, it takes time to do this, not to mention a decent vocabulary and the English skills to properly use words. But length, a fulsome explanation, is your best friend when trying to get your true meaning across.
Tweets, texts, instagrams, snapchats and emojis are usually too short, too lazy, too open to erroneous interpretation. I am told an emoji depicting nails being painted means "sassy". I ask you, is that any way for people over the age of 11 to communicate?
---
Word of the week
Similitude (noun)
A comparison drawn between two things. EG: "You can see the similitude in the hand sign for Coronavirus and computer graphics of it."
---
Read the latest Oh my word! every Saturday in The Courier. Contact me at sfinan@dctmedia.co.uk