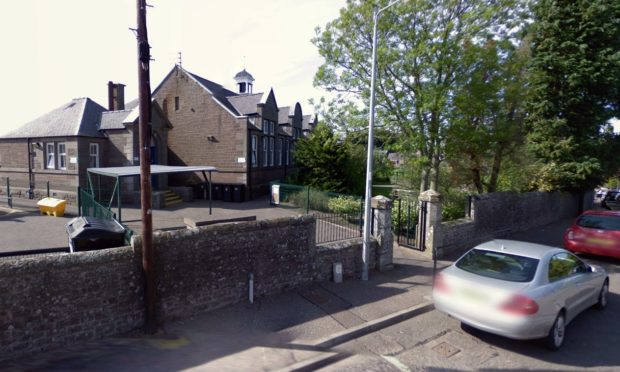 A dad has spoken of his shock after his son was approached by a stranger who repeatedly asked the youngster to get into his car as he walked to school.
Police are appealing for information on the incident, which happened outside Letham Primary in Angus.
The little boy ran to the school to tell his teacher about the attempt and his parents were called.
The father, who did not want to be named, said he felt "helpless, angry and disgusted" that his son had been targeted.
He said it was the "most horrible feeling" to imagine what might have happened if the boy had not had his wits about him.
He said: "It is horrendous. We have said to him in the past, if anyone ever approaches you, just run and that's what he did."
The incident happened between 1.15 and 1.30pm on Friday in the Braehead/Blairs Road area.
The car has been described as quite large and black and the man behind the wheel was wearing a woollen hat.
The father said his son was in a "fair state" when he was collected from school and has been left shaken by his ordeal.
He said: "My son was on the pavement, walking towards school. He knew the car was behind him going slowly.
"It came up beside him, the man was quite calm, not screaming, and he said 'get in the car, get in the car.' My son just took off.
"It is horrendous something like this happened in a wee village like Letham, where everybody looks out for everybody. I just feel pretty helpless.
"All that has been going through my head is, what if he (the driver) had got out of the car and grabbed him, it's horrendous."
Angus councillor David Lumgair, Conservative member for Arbroath West and Letham, said he was "greatly concerned" about the incident and urged anyone with any information to contact the police immediately.
He said: "Letham is such a quiet place, you don't expect something like this to happen here.
"I hope the driver can be traced. It is up to anyone who saw anything to come forward, they should not be frightened to contact the police."
Police Scotland issued an appeal to help trace the driver.
Anyone with information is asked to call 101.