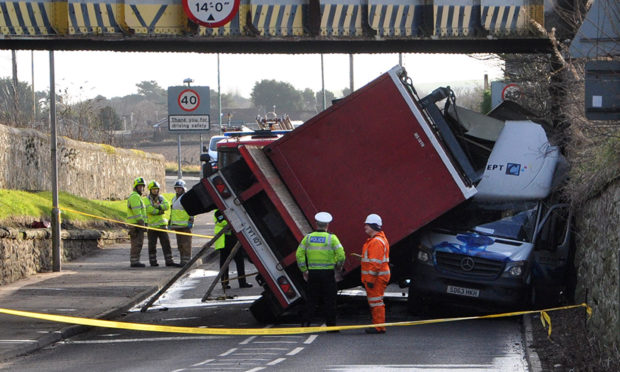 Angus bridges are faring well in an ongoing inspection regime, despite concerns over a number of high-profile incidents at crossings in the county.
Structures carrying the main east coast rail line have been in the spotlight after one bridge near Montrose emerged as one of the most regularly hit in the country but a new report has revealed monitoring figures for the area present a positive picture, well below the Scottish average.
The bridge over the A937 at Hillside, and that over the A92 at Inverkeilor between Arbroath and Montrose, have both witnessed recent accidents, with vehicles striking their parapets.
In a dramatic Hillside incident a van driver escaped serious injury when a truck toppled onto his vehicle.
Data from the annual SCOTS (Society of Chief Officers of Transportation in Scotland) report has shown the percentage of Angus bridges monitored in 2017/18 was just 0.17%, some way behind the 2.77% Scottish average.
Angus communities committee member, Montrose SNP councillor Bill Duff questioned the inspection rate but was told by authority roads service leader Walter Scott a low figure was the objective in that area of data recording and therefore, the situation was a welcome one.
The overall Angus SCOTS report revealed better than average performance in 20 out of 23 indicator areas, with an improvement in a third of the indicator areas.
Areas of improvement included an increase in surface dressing treatment against both the previous Angus rate and the national average and a drop in the number of third party footway claims, which totalled eight, against a Scottish average of 31.
Average Angus spend on carriageway maintenance was £5,005 per kilometre compared to a national average of £6,114.
A footpath expenditure figure of £1,707 per km was significantly higher than the national rate of £949 per km.
However, the area was marginally worse than the national figure for the number of roads which were identified as requiring consideration for some form of repair, with a 36.7% tally representing a rise of more than 5% from the previous year.
Mr Scott told councillors Angus has received nominations in a number of categories of the national Association for Pubic Service Excellence (APSE) awards, including winter maintenance and street lighting.
Last year the authority cut its electricity bill for each street light from more than £32 to £28.25, against a national average of £34.76.