VIDEO: Big loss for Dundee Euromillions winner Gillian Bayford as fee agreed for her Fife castle on for £200k
By
Stephen Eighteen
December 5 2019, 7.59am
Updated: December 5 2019, 9.46am
Dundee Euromillions winner Gillian Bayford is set to lose a fortune on her Fife castle after it was announced that the property is under offer.
Mrs Bayford, who became one of Scotland's wealthiest women in 2012 after sharing a £148 million jackpot with her ex-husband, bought Chesterhill House near Newport-on-Tay for £619,990.
She had planned to demolish parts of the 19th Century C-listed building and add modern features.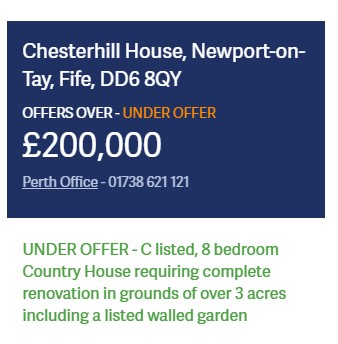 However, after she changed her mind and opted to sell the eight-bedroom property is now under offer having been advertised for just £200,000.
Video showing the inside of the property is above this article.
In August 2019, The Courier revealed that the home, in need of "complete renovation", was on the market for offers over £350,000.
Dundee Euromillions winner Gillian Bayford set to lose £270,000 on Fife castle she purchased last year
But the price was slashed to £200,000 – less than a third of the figure Mrs Bayford paid out in 2017 – to drum up some interest.
A spokesperson for estate agent Bell Ingram said: "The price was reduced to generate some interest. When we first marketed it [in 2017] it was also on for £200,000 and we had huge interest in the property."
Fife castle could be yours for £200,000 — but you'll need to fight off an army of challengers
Back then the building, which is effectively a small castle and comes with more than three acres of land, captured people's imaginations from London to the US and New Zealand; and was even the subject of a feature on Fox News.
Speculation was so high that Bell Ingram was forced to carry out bulk viewings, racking up a tally of 156 visits before deciding it could not arrange any more.
In total 15 people made offers to snap up the country home and Ms Bayford's £619,990 offer was "significantly" higher than the estate agent expected.
REVEALED: The incredible sum paid for hidden Fife castle in need of 'complete renovation'
This time, however, there was less interest.
The Bell Ingram spokesperson said that the only material difference to the 2017 advertisement was the removal of a former coach house.
The spokesperson added: "Since it was first advertised there was asbestos removal on some of the roofing but otherwise it is pretty much the same as it was."
The building was designed in the Tudor-Italianate style in 1870 and is C-listed. It features a listed oval-walled garden, castellated parapets and a square plan tower.
The manor is said to have been built to replace an older home build by a Dundee merchant only to be lost in a fire.
The agreed price will not be revealed until the sale has officially gone through.