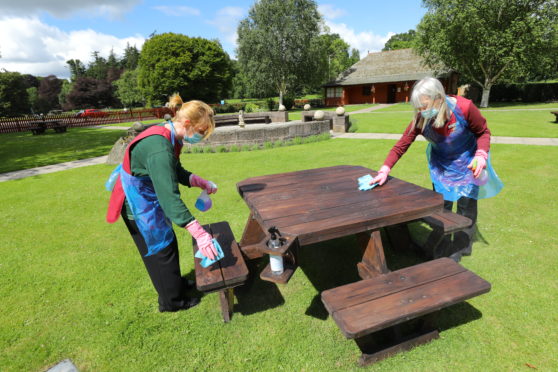 Tourism bosses in Tayside have warned there is an uncertain future ahead as attractions begin to reopen this week.
Museums, art galleries and other attractions are preparing to open their doors on Wednesday after months of lockdown.
Angus landmark Glamis Castle is preparing to resume indoor tours this week, after opening its gardens to visitors late last month.
It is the most popular tourist draw in Angus, welcoming 100,000 people from across the globe in a typical year.
But Helen Buchanan, general manager of the castle, has said it has been a "slow start".
"The one positive is that we have been receiving great compliments about the measures put in place," she said.
"I think tourism is going to be seriously impacted so we are relying on staycations and local people who may not have visited before.
"Like many industries, we're trying to do job preservation but it's still early days and what we are facing is very difficult at this stage."
In Dundee, the Museum of Transport will welcome guests from Wednesday, with  Verdant Works and Discovery Point following soon after on Friday, albeit at a reduced capacity. Outdoor seating is being prepared for catering at both sites.
But Dundee Contemporary Arts (DCA), one of the city's most celebrated sites, will remain closed until September, with bosses revealing the closure has cost hundreds of thousands.
Beth Bate, DCA director, said: "It's not a simple process of opening the doors and letting everyone in. It is a big and complex buildings. We don't do just one thing.
"While it will be a very different experience, I don't think the measures will come as a surprise to people by the time we open.
"People will be used to having to socially distance and the need to plan a visit ahead of time."
The annual report for the last financial year has been delayed due to the pandemic, but the site enjoyed a bumper year leading into lockdown.
Its cinema attracted at least 100,000 of those visitors — the first time that figure has been reached.
Ms Bate said the closure had resulted in a loss of a "good six-figure sum".
She added: "It's disappointing that we had to close when we did, but at least we're starting again from a healthy position and know people want to visit. We've been inundated with messages of support and people wanting to know when we will reopen.
"The furlough scheme has been fantastic but we can't pretend that it doesn't look like a difficult future ahead for attractions.
"But people in culture and tourism are nothing if not entrepreneurial and creative about how we do this."
V&A Dundee has not revealed a reopening date, but a spokeswoman said an announcement would be made soon.
Leisure and Culture Dundee would also not confirm an opening date for its attractions, which includes the McManus, but a spokesman said: "We have really missed our visitors and can't wait to welcome everyone back when the time comes."
In Perth, Black Watch Castle and Museum opened its outdoor courtyard area while its full reopening is scheduled for July 15.
In Aberfeldy, The Watermill has reopened its bookshop and cafe and plans to extend this to its art gallery on Wednesday.
Scone Palace is also phasing its reopening, with visitors allowed to wander its gardens and grounds from Wednesday to Sunday since the beginning of the month.
Meanwhile, shopping centres across Scotland are preparing to reopen today.
Large numbers of shoppers are expected to flock to their favourite retailers but are being advised to be prepared for a different shopping experience.
As per government guidance, face coverings should now be worn in all shops and there will be socially distanced queuing and one-way systems in place.
Alison Henderson, chief executive of Dundee and Angus Chamber of Commerce, said: "A lot of places are going to have to look at their space and see how they can make it work.
"They have got to find a clever way of making some difficult decisions and how it works financially for them.
"It's a big change for some and we don't know how long these measures will have to be in place for."
In Fife, tourist attractions are also starting to reopen this week, with infection control measures in place.
St Andrews Aquarium will open on Wednesday, taking booking online to ensure numbers allow for social distancing.
Deep Sea World in North Queensferry is also preparing to welcome back visitors.
Those planning to visit the attraction are advised to read the attraction's Covid-19 guidance on its website before attending.
The cafe and public toilets at Craigtoun Country Park near St Andrews have reopened and it is hoped paid activities can be reopened in the near future.
An Angus Alive spokesman said they are working on a "phased approach" to welcoming visitors back to its attractions.