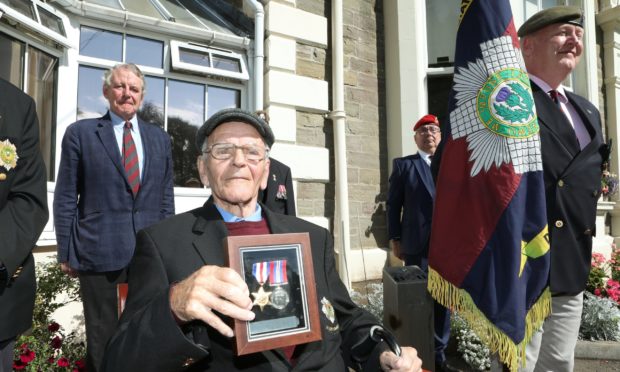 Comrades from the Scots Guard have surprised one of Tayside's last Second World War veterans by replacing his missing medals.
Ninety-five year old Gordon Webster lost his two medals – received in recognition for his service as a machine gunner protecting supply convoys in Belgium and Germany.
Fellow members of the Dundee and Angus Branch of The Scots Guards Association decided to present the elderly veteran with a new set to mark the 75th anniversary of the end of the conflict.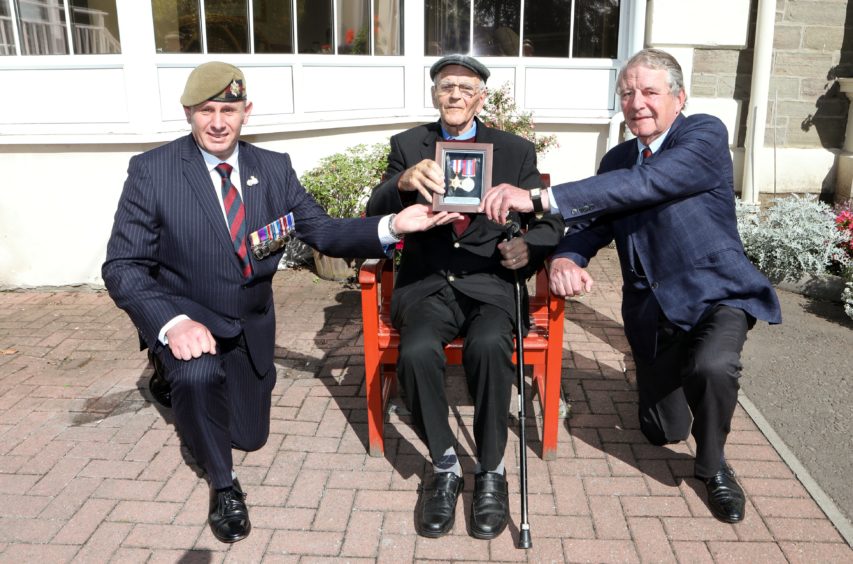 Gordon still attends the group's meetings regularly, despite his advanced years.
Chairman of the Dundee and Angus group Gordon Peebles said:  "Gordon was completely surprised with yesterday's presentation.
"He was under the impression he was being taken out for a cup of tea."
Gordon received a newly-minted France Germany Star and a War Medal 1939–1945 in the ceremony.
Association president James Ramsay, Earl of Dalhousie, was among the guests at a small presentation at the Rosendael Veterans Home in Broughty Ferry on Saturday.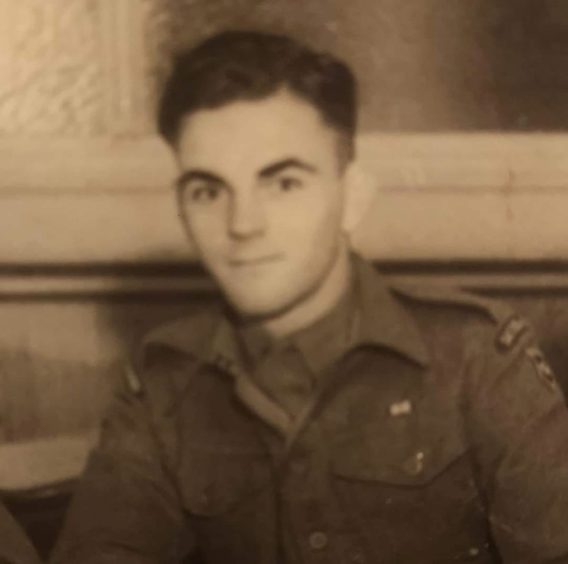 Gordon recalled losing two men from his section during the war and his role protecting vital supplies of ammunition and fuel as they were moved to the front lines.
He guarded the convoys of Bedford trucks with a light machine gun known as a Bren Gun, one of a dozen guardsmen separated from their regiment to fulfil this duty.
On receiving the medals, the 95-year-old quipped: "The Bren Gun was really handy when the gerries ambushed you".
The veteran was with the 2nd Battalion Scots Guards and served from when he was called up in 1944 until after the war had ended in November 1947.
Gordon Peebles said the branch of the Scots Guard association only had four members who had served during the conflict, making it all the more important that they recognise Gordon's courage now.
"The numbers are really dwindling now," he said.
"Despite his age, Gordon is still a regular attendee at branch meetings which are normally held at Oliver Barracks on Dalkeith Road each month.
"This presentation is just a small gesture from the Dundee and Angus Branch president, chairman, committee and members to say thank you for Gordon's war time service," he added.