A water tank in Dundee's dockyards was at the centre of a large fire on Thursday.
Smoke from the scene could be seen from as far north as the Kingsway.
The fire was extinguished at 6.20pm and an investigation will be carried out.
The fire seems to be focussed on a Storm Water tank, first built as part of the Tay Waste Project.
It is thought the container involved in the blaze contained raw sewage.
Four units were initially sent by the Scottish Fire and Rescue Service (SFRS).
A witness said: "I don't know what started it but it looks like it is getting worse by the second.
"There are lots of fire engines at the scene so hopefully they can get it under control.
"Parts of the roof appear to be falling from the building. The whole sky surrounding the docks is covered in smoke billowing from the building.
"The actual fire is also visible."
They said more and more fire engines appeared to be heading to the scene, even up to an hour after the blaze was initially reported.
A spokesman for the SFRS said: "The Scottish Fire and Rescue Service was alerted at 4.50pm on Thursday 16 February to reports of a building fire on East Camperdown Street, Dundee.
"A total of four fire appliances were mobilised to the scene, including a High Reach Appliance."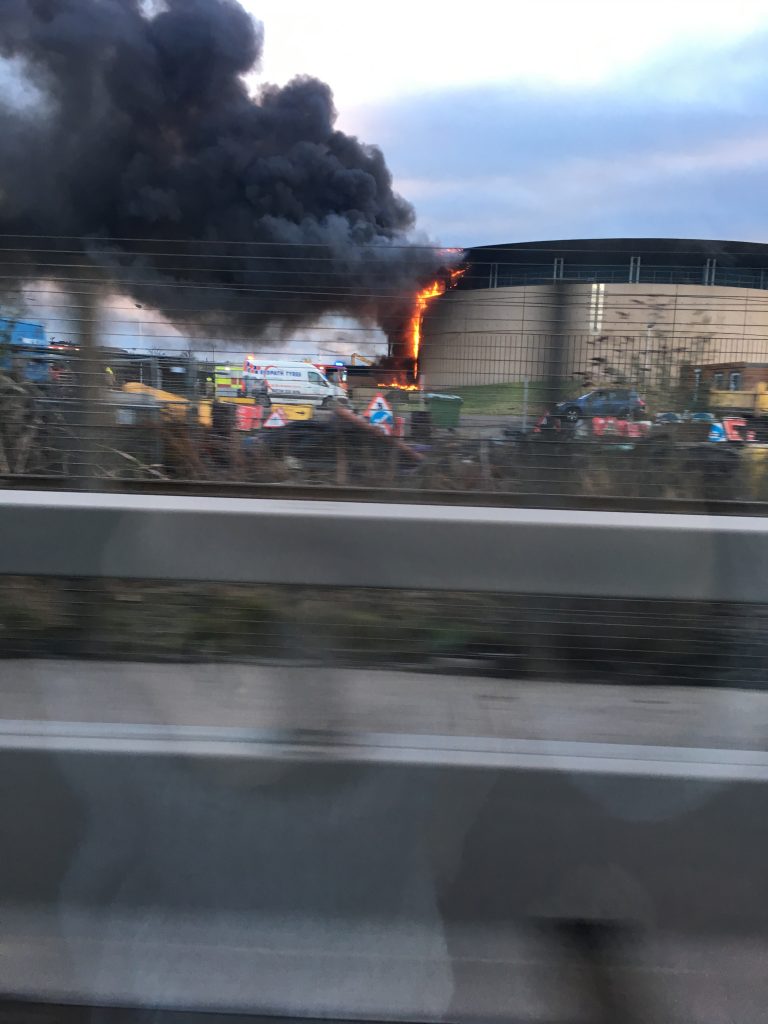 The cause of the large blaze is unknown.
@courier_dundee Fire just started in Dundee docks area. pic.twitter.com/hF0M4XbhZv

— Kevin Davey (@davey_kevin) February 16, 2017
The fire broke out at around 4.50pm on Thursday afternoon.
Dundee councillor Will Dawson tweeted: "Major fire at the Scottish water plant in Dundee port. Slow traffic on East Dock Street."
Ooooeh – something on fire at the Port – hope all is ok pic.twitter.com/9cYDFX7Dq3

— Alison Henderson (@alisonhendo) February 16, 2017