A police sniper had murderer Robert Mone in his sights on the day of a notorious Dundee school shooting but was ordered not to kill him, The Courier can reveal.
Exactly fifty years ago today the 19-year-old soldier, now known as one of Scotland's most notorious killers, walked into a classroom in St John's Roman Catholic High School armed with a shotgun and enough ammunition to kill every pupil in his sight.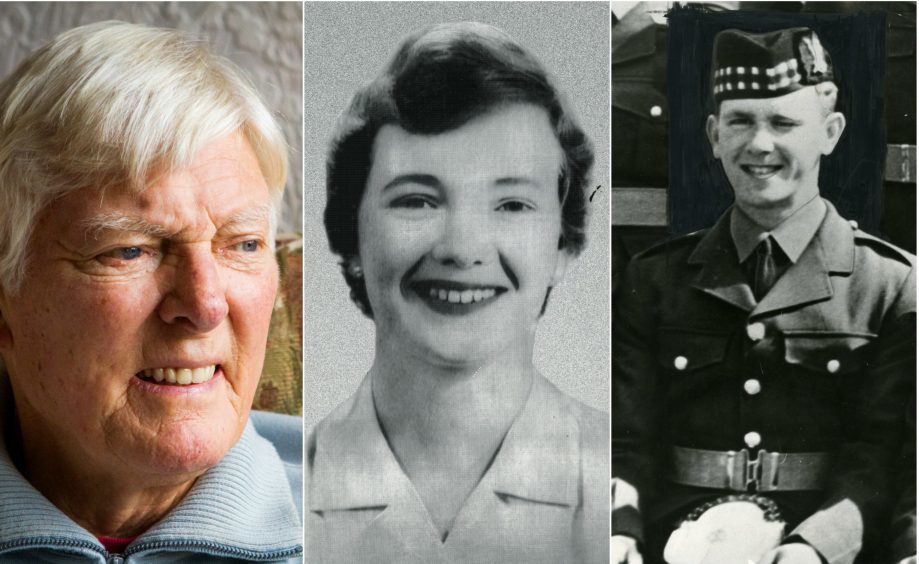 The events of the afternoon of November 1 1967 – or All Saints Day – ended with the killing of pregnant teacher Nanette Hanson and sent shockwaves across the country.
Five decades on, those who witnessed the siege at St John's – including one pupil who has broken a 50-year silence after being held at gunpoint on the day – have recounted the terrifying events.
And a hero former police inspector who arrested Mone at the school has revealed that a police sniper had the killer in his scope but was ordered not to pull the trigger.
The needlework class on the top floor of St John's, presided over by 26-year-old Mrs Hanson, had just got under way when Mone stormed in –  only to be met with giggles from the class of 11 girls aged between 14 and 15.
"I can see her face right now": Former St John's pupil held at gunpoint by Robert Mone breaks 50-year silence on terrifying siege
St John's heroes prevented mass shooting, says veteran Dundee reporter
A private in the British Army, he was dressed in his Gordon Highlanders uniform and armed with a newly-purchased double-barrelled shotgun, having recently arrived back from deployment in West Germany.
It wasn't long before the youngsters and their teacher realised it was not a practical joke as he yelled at them all to get against the wall – warning he had enough ammunition to kill every one of them.
No escape
The youngsters began to sob as they were ordered into an anteroom adjoining the class, from which there was no means of escape.
Six girls were ordered to move desks in front of the door to stop anyone coming in.
When the noise attracted the attention of another teacher, Margaret Christie, who knocked on the door – Mone fired a shot, breaking an overhead panel.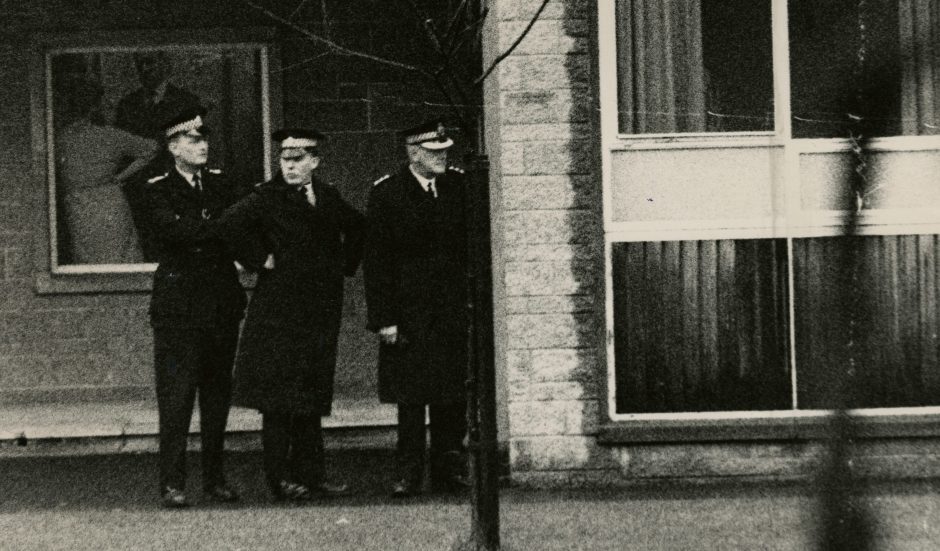 A state of emergency was declared and 1,000 pupils were evacuated from the school. Police with riot shields and dogs, along with firefighters and paramedics descended on the scene, surrounding the school.
Officers lined the corridor outside the class along with the school's head teacher Brother Bede and eventually Mone's own grandmother, who attempted to plead with him to stop.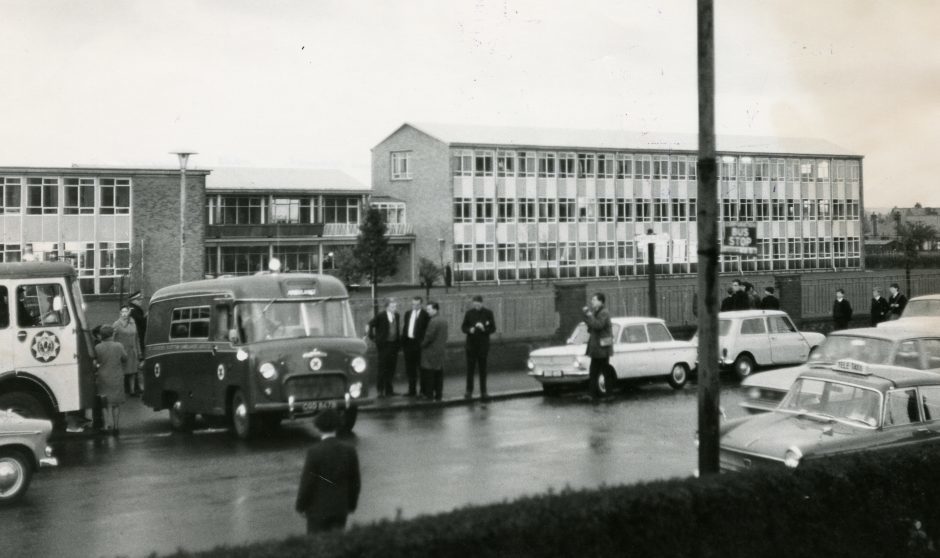 Also in the corridor outside was Detective Constable Jim Melville, 33, and his superior Detective Sergeant George McLaren, both of Dundee City Police's central intelligence division (CID).
And now retired inspector Mr Melville, now 83, has claimed that police had the opportunity to shoot Mone before he killed Mrs Hanson – an act that he said would have saved the lives of more than one person.
Mone had asked to see a former acquaintance called Marion Young, an 18-year-old Dundee student nurse.
The newly-married Mrs Hanson had come to an agreement with the soldier that if she was traced and brought in, the pupils would be let go.
Ms Young was quickly traced by police and, upon being informed of the situation, volunteered to go into the classroom and attempt to talk Mone out of murder.
The two women eventually persuaded Mone to let the girls go, but as Mrs Hanson lined up to leave he told her "Not you. You're not going. I want you here".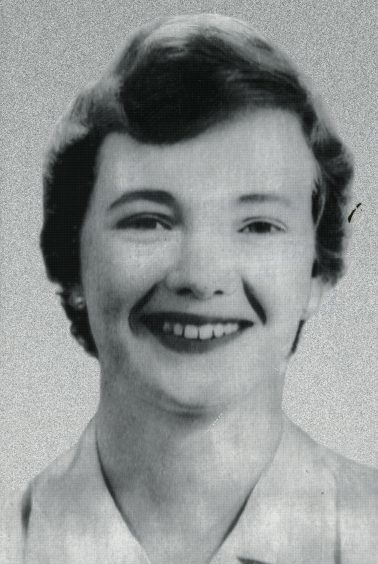 At 4.30pm two gunshots rang out from St John's. Mone had asked Mrs Hanson to shut the blinds in the room. As she turned away from him, he shot her in the back, killing her.
Mr Melville, who received the Queen's Gallantry Medal for his actions during the Claypotts siege of October 1977, said a police sniper was in position on the roof of shops directly opposite the school.
Police marksman Tom Jowett had Mone in his sights before the blinds went down – but was ordered not to take the shot.
Mr Melville said: "It must have been about 2pm. We were in the office and got word and George said, 'Come on we're going up to St John's. Quickly, let's go'. I remember getting up there and George said 'Just let me in here. I'm handling this'.
'He had a shot on the guy'
"Mone (had) asked her (Mrs Hanson) to sort the blinds, she went over and sorted the blinds, (he) shot her in the back.
"Now at that time we had a police officer on the rooftops of the shops opposite the school. Tom Jowett, Detective Sergeant. And he had a shot on the guy. He could have shot him, but the order was never given."
Mr Melville said the officer in charge at the time Mr Jowett had Mone in his sights "wouldn't give the authority to shoot".
He added that he believed "the shot should have been taken" and said doing so would have saved at least "another three lives" in Dundee – referring to a triple murder carried out by Mone's father, Sonny, in 1979 in a bid to better his son.
Mone also broke out of the State Hospital at Carstairs with his lover Thomas McCulloch in November 1976, a bloody escape which resulted in the murder of a nurse, police officer and patient.
Mr Melville claimed he was the third person to enter the classroom in St John's after Mrs Hanson was shot along with Brother Bede and Det Sgt McLaren.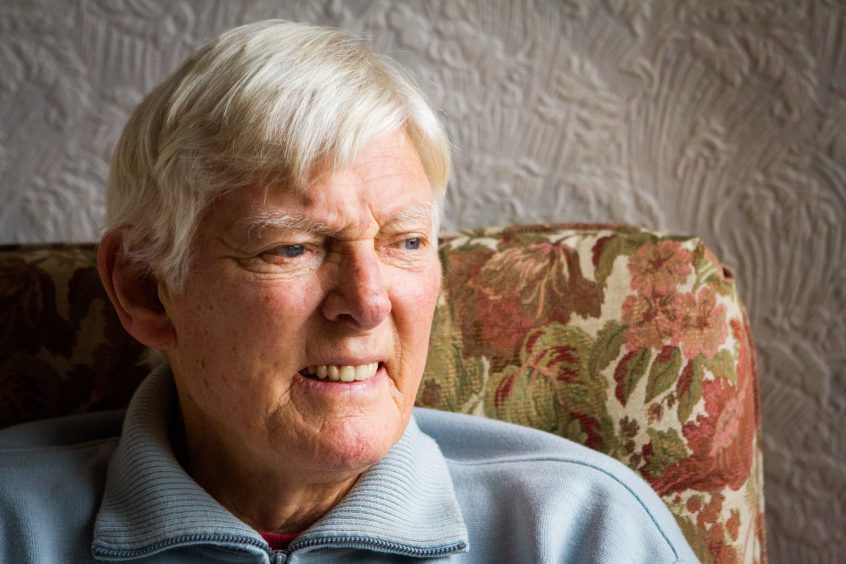 ---
Timeline: the life of a crazed killer
1948: Robert Francis Mone is born. Grows up with parents and two sisters in Dundee.
1964: Mone is expelled from St John's RC High School by the Marist Brothers.
1966: Mone joins the army and serves with the Gordon Highlanders in Germany.
1967: Nanette Hanson moves to Dundee from Yorkshire with her husband Guy and begins work at St John's. Mone carries out his attack at his old school and Mrs Hanson is killed.
1968: Mone diagnosed as schizophrenic and deemed not fit to plead at trial. He is declared insane and sent to the State Hospital at Carstairs.
1970: Thomas McCulloch shoots a hotel chef at Erskine Bridge and is sent to Carstairs where he meets Mone.
1976: Mone and McCulloch break out of Carstairs and embark on killing spree which leaves nurse Neil McLellan, 46, patient Iain Simpson, 40, and policeman George Taylor, 27, dead.
1977: Mone admits to killing PC Taylor. McCulloch pleads guilty to killing Mr McLellan and Mr Simpson. Lord Dunpark makes legal history at the High Court in Glasgow by handing down 
Scotland's first "natural life" sentences to the pair.
1979: Mone's father, Robert 'Sonny' Mone, murders three women after boasting he wanted to be more famous than his son and McCulloch. He tied up, strangled and butchered widow Jane Simpson, 70, and her friends Catherine Millar, 29, and Agnes Robertson Waugh, 78.
1981: Mone Jnr stages rooftop jail protest at Perth.
1983: Sonny Mone is stabbed to death by a fellow inmate in Aberdeen's Craiginches Prison.
2002: Mone uses human rights law to get his sentence cut to 25 years.
2007: Mone sparks outrage when he is allowed out for a day trip to Crieff.
2017: Mone remains behind bars.