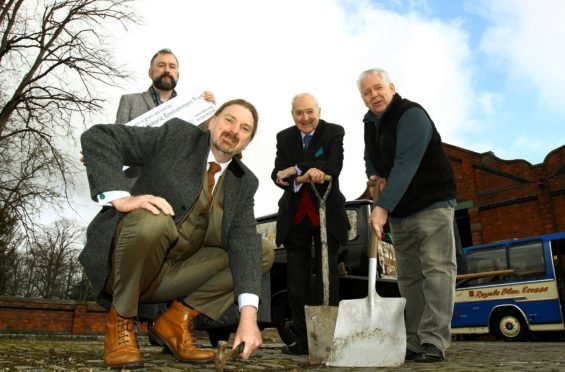 A plan to move Dundee's Museum of Transport to a new permanent home could be the "missing piece of the jigsaw" in the city's tourism masterplan, according to a local MP.
The popular attraction, which is currently based in an industrial warehouse at Market Mews, has received a £73,000 funding grant to begin renovation work at the historic Maryfield Tram Depot.
The Forfar Road site is thought to be the oldest surviving building of its type in Scotland and workers began the process on Thursday of restoring the cobbled forecourt and surrounding walls and railings to their former glory.
Dundee West MP Chris Law, a self-confessed enthusiast of vintage transport, said it was "really exciting" to see work finally get started on the museum's new permanent home.
"This is the missing piece of the jigsaw in the whole of Dundee's plans for visitor sites across the city," he said.
"You can't see it in isolation, you have to see it as part of Dundee's wider plan and I think that's really important.
"When people come here for the weekend and they go and see the V&A and the other things, they also get a chance to come up here and see another side of Dundee that perhaps they wouldn't be expecting."
The group behind the museum have had plans to set up shop at the Maryfield depot for nearly a decade but have finally been able to press ahead thanks to grants from Dundee Historic Environment Trust (DHET) and Dundee City Council.
Museum bosses hope the new premises will be able to open fully to the public over the next few years but a phased approach means the renovation could yield aesthetic improvements for the historic building in just a matter of months.
Adam Swan, director of DHET, said: "We felt this was such an important project and the idea really is just to give things a kick start and let people see that something is happening with this amazing building.
"Creating this forecourt entrance and doing it all up means it will have a presence on Forfar Road so all the cars coming backwards and forwards out of Dundee will be able to see that something is happening here."
Stewart Murdoch, managing director of Leisure and Culture Dundee, said: "I think everything we do has that double edge; we want to bring people to Dundee but we want it to be great for the people who are here too.
"This is a great example of that; it started in Dundee but it will also bring people here.
"It just shows, when things are properly aligned, it's great for the city and it's great for local people."