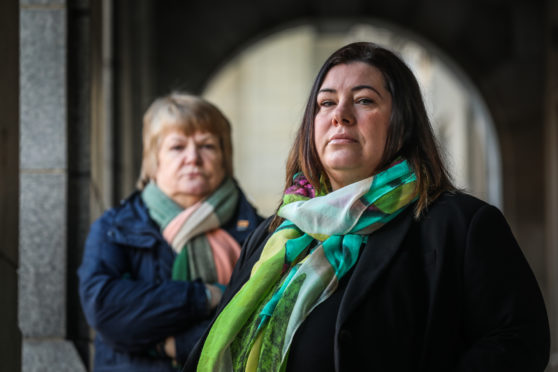 Union representatives are threatening industrial action over claims carers are being "blackmailed" into accepting split shift working or a cut in pay.
Plans to transform working conditions for carers in Dundee went before the policy and resource committee last year but were deferred amid determined opposition from unions.
Redrawn plans — largely resembling last year's proposals — are now back on the table.
A spokeswoman for the Dundee Health and Social Care Partnership said the proposals would allow "more focused hours with people we care for" and insisted the status quo could not continue.
Staff have been served notice of consultation by the partnership, outlining new work patterns of 30 or 25 hours a week for split shifts.
Single shift options would be reduced to 23, 14 or 12 hours a week, leaving carers who want to avoid split shifts facing a cut of up to £4,500 from their salary.
One spokesman for the GMB Scotland union called it a "horror show".
The pay cut would come with a "financial incentive" of a one-off, £1,000 payment to any worker moving to the split shift system.
The council is also expected to offer voluntary redundancy or early retirement packages in an effort to cut costs.
GMB Scotland organiser Helen Meldrum described it as "emotional and financial blackmail" of low-paid women in the home care service.
She said: "It's an absolute disgrace. The council say our carers need to 'move with the times' to make the service 'fit for the 21st Century'.
"We say that plunging hundreds of women into poverty pay is not a prescription for the delivery of essential public services in future.
"Our members just want to be valued properly. They want to deliver a decent service and receive decent pay and conditions for doing so, with working time arrangements that don't cause significant upheaval to personal lives.
"These are basic needs but the council just isn't listening."
Ms Meldrum said the union also represented workers in the private sector, where conditions are "far worse".
She added: "Last year there were 40 council posts lost that were not replaced. There is a feeling among some of our members that they are deliberately running it down so that there is no choice but to accept these conditions."
A spokeswoman for the partnership said it was working with Dundee City Council and NHS Tayside to provide services in more flexible and sustainable ways for the growing number of frail older people across Dundee.
"It's well documented that Dundee is facing demographic and financial challenges, which mean that we cannot stand still," she said.
"With potential changes to the current dated system of shift working, the percentage of time our workforce can spend with their service users, supporting them in their own homes, would increase from 45% to 72%. That can only be a good thing.
"It would provide around 1,000 hours of extra contact between staff and service users each week, which also means we can get more people out of hospitals and into their own homes.
"More focused hours with the people we care for promotes continuity of care.
"We value the commitment and dedication of our workforce, compared t the amount of outsourcing which has taken place in other areas. While we continue with this dialogue, vacancies that have arisen have been filled on a temporary basis."