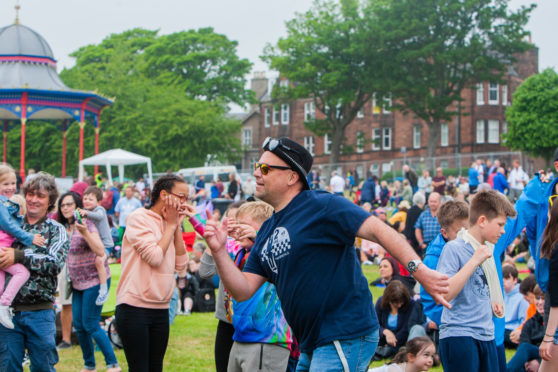 A popular festival in Dundee's West End has been given the go ahead despite complaints from local residents about noise.
WestFest had received a small number of complaints arguing it had grown too big to be hosted at Magdalan Green. Around 13,000 people attended in 2018.
The city council's licensing committee has backed the festival, giving it the green light for its 10th year.
Convener Stewart Hunter said he was impressed with organisers' willingness to take on board suggestions from locals.
They had also sought to ease complainers' fears, saying they are always keen to consider suggestions and citing the addition of security fencing three years ago as an example.
See you on the green ? pic.twitter.com/GfWqaxPsnl

— Dundee Westfest (@LoveWestfest) May 2, 2019
Some of the issues raised at the committee meeting included preventing underage drinking and ensuring loud music stops at a reasonable hour.
One of the main complaints from two residents who live near the site was  there was loud music playing into the evening, but the organisers strongly refuted this, saying everything was cleared away and they were in a pub by at least 8pm.
Police and licensing officers told councillors they had no concerns about the festival. One police officer explained there were two minors incidents at last year's event but given the amount of people attending the festival, they would have expected more.
Organisers also took the opportunity to highlight the knock-on positive effects WestFest has on nearby businesses, with local restaurants, pubs and shops reportedly experiencing a boom on the day.
They defended Magdalan Green as the venue, saying it was integral to the identity of the festival.
Councillors also heard the festival could actually hold more people than it has in recent years, with there being more green space to the west of the bandstand.
"It doesn't feel claustrophobic at all", WestFest committee chair Martin Hay said.
After the approval, Mr Hay added: "We are a committee of about 20 people and we put a lot of work into it and this overwhelming support was nice.
"We would encourage people to join our committee and if any objectors have constructive ideas we are hoping to take that on board."
WestFest committee member Martin Manzi agreed they will consider the issues raised and said complainers "have the right to object".
He added:  "We have had significant input in the past and we have always taken that on board."
This year's WestFest will take place on June 2 at Magdalen Green.