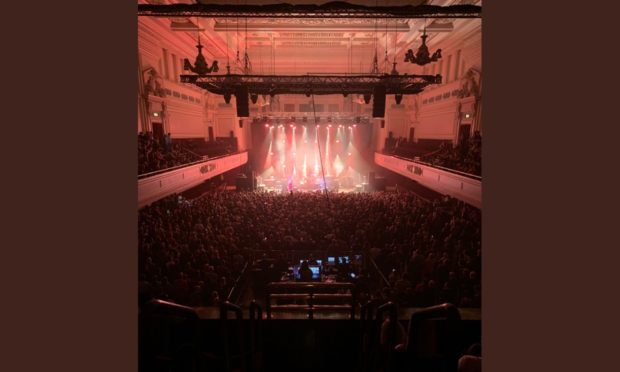 Biffy Clyro have hinted that they will return to Dundee sometime soon after a sold-out show at Caird Hall last night.
The rockers performed an 'intimate' gig in the city last night for their only Scottish date of the year.
With tickets selling out in minutes the Scottish group cranked up the hype for the gig by placing briefs at hidden locations across Dundee ahead of the group's first city show in 10 years.
And many of those who attended seemed to enjoy the occasion, with a series of posts on Twitter and Instagram praising the show.
The group hinted at a Dundee return soon, posting: "Thank you for a brilliant night, Dundee. Let's not leave it another ten years!"
https://www.instagram.com/p/B3nZnkYhV8b/
Patriciastafford2019 posted on Instagram: "Fantastic gig. The energy you guys have is just unreal!"
Lornafergi added: "Set list of dreams tonight. Thank you. Throat is hurting already and ears are ringing, but so worth it."
Instagram user enigamic posted a series of videos of the show.
https://www.instagram.com/p/B3nabcajoPK/?igshid=1iapqji8xlfcp
When Simon Neil wears Zara sequin trousers better than any woman ever could ?. #zara #biffyclyro #cairdhall #fashionforward pic.twitter.com/eKxLjwqHAs

— Elaine Morrison (@DRESSED2KILL_88) October 14, 2019