IN FULL: Mother's 'heart is broken' as no police officers face prosecution in relation to Sheku Bayoh's death
By
Claire Warrender
November 12 2019, 7.50am
Updated: November 12 2019, 9.47am
The mother of Sheku Bayoh said her heart has been broken by a decision not to prosecute anyone in connection with her son's death.
Tearful Aminata Bayoh said her life has never been the same since Mr Bayoh, 31, died after being restrained by up to nine police officers on a Kirkcaldy street near his home.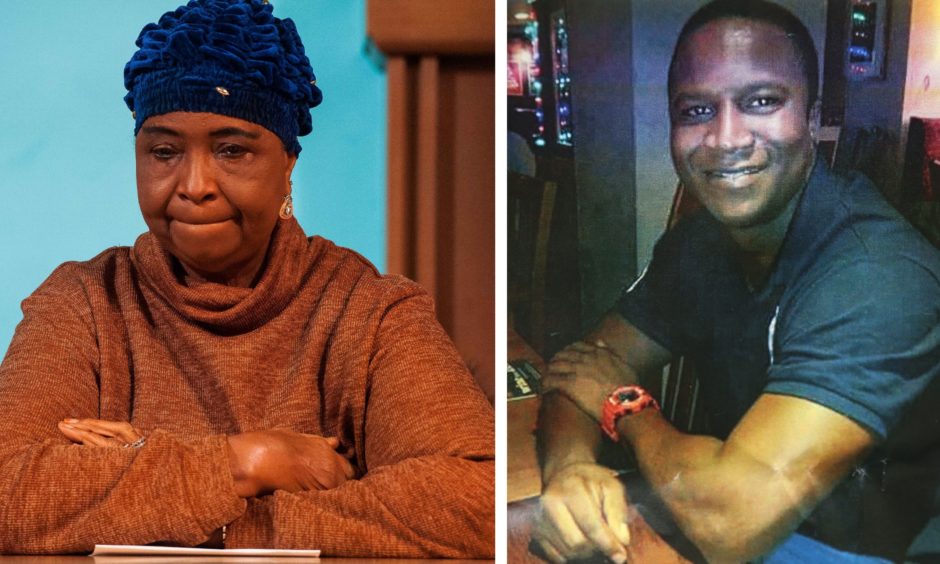 The 70-year-old, who travelled from her home in Sierra Leone to attend a meeting with  Lord Advocate James Wolff QC on Monday, said she and her family felt "totally betrayed" by the decision.
They have insisted they will now accept nothing less than a full public inquiry into the father-of-two's death and will meet with First Minister Nicola Sturgeon on Tuesday to make a formal request under the Inquiries Act 2005.
They will also consider whether to take legal action against the Lord Advocate, claiming a breach of the European Convention on Human Rights.
Mrs Bayoh said: "I came back to Scotland last week and my heart has been broken yet again with this decision.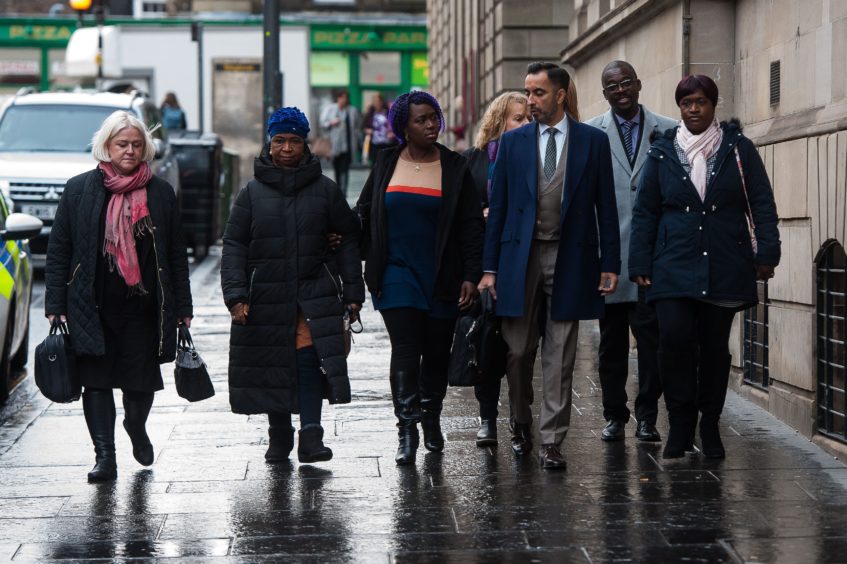 "My only son died at the hands of the police."
She was joined at the Crown Office in Edinburgh by daughters Adama Jalloh and Kadijartu Johnson, son-in-law Adeyemi Johnson and lawyer Aamer Anwar.
Speaking following the decision, Mr Anwar said: "The family feel totally betrayed by the Lord Advocate for not holding power to account, for his broken promises, his betrayal of justice and a failure to act in the public interest.
"Neither the family nor the legal team accept the Crown's reasoning for no criminal charges."
He added that the four-and-half year investigation into the death of Mr Bayoh had been "deeply flawed" .
"The family do not have the trust or belief that a fatal accident inquiry under the control of the Lord Advocate would have the remit or the courage to deal with serious public concerns," he said.
Mr Bayoh, a trainee gas engineer, died in Victoria Hospital, Kirkcaldy, after being sprayed with CS and pava gases and restrained by police who said they were responding to reports of a man acting erratically while armed with a knife.
It is thought he suffocated as he lay face down with police on top of him. The presence of drugs in his system may have contributed to his death.
The police officers involved have always denied any wrongdoing.
Mr Amwar added: "The Bayoh family stated from day one that Sheku acted out of character and that if he broke the law then police had a right to act, but he did not deserve to die.
"Police officers have a right to defend themselves but any use of force must at all times be lawful, necessary and proportionate in the circumstances.
"Sheku was brought to the ground within 42 seconds of the first police contact, never to get up again."
Mr Bayoh's partner Colette Bell, mother of his son, said: "I believe that if the police hadn't treated my Sheku the way they did, he would be here today.
"I am fed up of the lies and the attempt to blame Sheku for his own death."
Sheku Bayoh: Crown Office says no evidence to support criminal proceedings over death
The Crown Office has said the evidence relating to the events surrounding Sheku Bayoh's death in May 2015 do not justify criminal proceedings.
They said the decision had been made following a "thorough review" but that a prosecution could be brought in the future if further facts were brought to light.
The comments came as the Scottish Police Federation, which represents 18,500 police officers, said it would welcome an inquiry into the incident as soon as possible.
A spokesperson for the Crown Office and Procurator Fiscal Service said: "The Crown appreciates that the time taken to conclude this investigation has been difficult for all those involved.
"Following careful consideration and thorough review of all the available evidence, including submissions made on behalf of the family of the deceased, independent Crown Counsel has concluded there should not be a prosecution in this case.
"The family have been provided with detailed information about this decision and the review process.
"Although the evidence currently available would not justify criminal proceedings, the Crown reserves the right to prosecute should evidence in support of that become available.
"The Crown is committed to ensuring that all the facts and circumstances surrounding the death of Mr Bayoh are fully aired in an appropriate legal forum."
David Kennedy, deputy general secretary for the Scottish Police Federation, said: "We continue to support the officers involved in this incident and hope that any public or fatal accident inquiry follows as soon as possible for all the parties involved."
Deputy Chief Constable Fiona Taylor added: "Our thoughts remain with Sheku Bayoh's family and friends following his death and we continue to offer support to anyone affected by this tragic incident.
"We have been committed to co-operating with the Police Investigations and Review Commissioner (PIRC) and the Crown Office throughout this process and will continue to engage appropriately with any further proceedings."
All deaths in custody must be the subject of a fatal accident inquiry, held before a sheriff into any sudden or unexplained death. It does not seek to apportion blame.
Public inquiries, which are rarer, are usually presided over by a judge and are only held in circumstances where there is significant public concern over an event.
The decision over whether or not there should be a public inquiry rests with the Scottish Government.