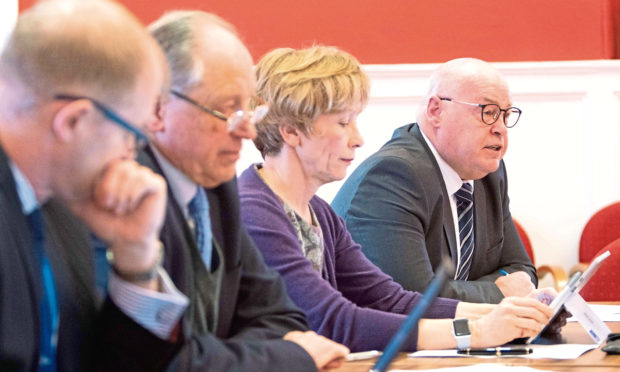 Bosses at Angus Council have already shed 500 jobs as they continue to make the local authority more "self-service".
Council leaders attacked the Scottish Government for "stealth" cuts in a briefing in Forfar on Monday, claiming its budget had been cut in real terms by 22% over a five year period between 2017 and 2022.
The administration will present its full budget, and council plan, at a special meeting on Thursday.
Council leader David Fairweather, deputy leader Angus Macmillan Douglas, chief executive Margo Williamson and finance director Ian Lorimer flagged the scale of the challenge.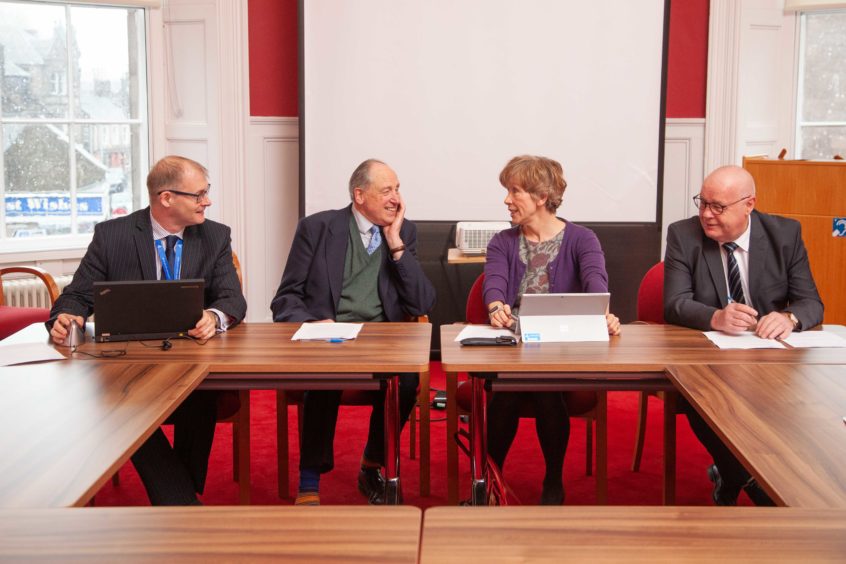 Cllr Macmillan Douglas said: "We have been quite determined to improve the efficiency of the council and bring in new ways of doing things."
He said Scottish Government cuts to local authority budgets had "not been well done".
"People are not open about it. I think this has been done by stealth."
Chief executive Margo Williamson said the council would increase the use of digital services and encourage communities to "take on more responsibilities".
She said: "We have to identify who and when people will get services over the next few years. We have a number of channels open for people of Angus to get a service from us.
"I think what you will find is the expectation will be much more self-service and you will see this digital offer being required of people, which will be challenging to start with."
The four declined to comment on council tax rates until Thursday.
Cllr Fairweather said: "The days of the council doing everything, I'm afraid, are long gone."
"What is stunning is what we are able to deliver inside these tight budgets."
Plans include an investment of £650,000 in apprenticeships and a similar amount for a project for mothers and children in difficult circumstances.
He also flagged £180,000 for work to tackle holiday hunger, after the project has already helped more than 12,500 children.
Two new "rapid response" environmental teams would deal with litter and fly-tipping while car parking income would contribute to £500,000 on road safety and maintenance.
"There has been a bit of bad press on parking but it should be a good news story," Mr Fairweather said.
Angus car parking fight turns ugly as 'dysfunctional' councillors clash with noisy protesters
"You can either have parking charges or pot holes and I think most people would agree with me that they would rather have the charges."
While declining to rule out further job losses, finance director Ian Lorimer said the authority had already shed 500 posts in the last five years.
"A lot of the headcount reductions have happened to balance budgets in the past years. A very significant reduction has already happened," he said.
A Scottish Government spokeswoman said the council "will have an extra £12.6 million to support its day-to-day services in 2020-21 – an additional 6% on 2019-20."