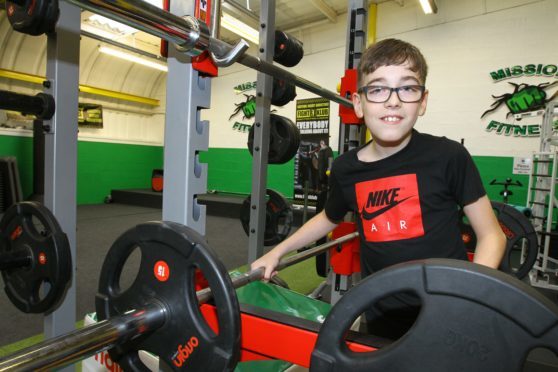 A determined Angus teenager who was wheelchair bound up to the age of six is learning to take his first steps unaided.
Riley Murray, 13, a pupil at Montrose Academy, was born with cerebral palsy and received life-changing surgery in America in 2011.
After seven years of hard work and constant physio sessions, Riley was able to take his first shaky steps on his crutches.
Since January, he has attended twice-weekly gym sessions at Mission Fitness Scotland in Brechin which have helped build his strength and his confidence.
His sessions with trainer Jason Mowatt and the progress Riley has made have delighted his parents.
The gym is hosting a fundraiser on September 1 to help Riley's recovery and enable his family to purchase much-needed equipment.
Riley's mother Trudy, said: "Riley started personal training sessions in January and he has been making amazing progress since then.
"The gym has decided to do a fundraiser to help us with our costs. We are always needing various pieces of equipment.
"There is an add-on Smart-drive which turns a manual wheelchair into a motorised, power-wheeled chair.
"This would give Riley more independence to go out with his friends,  but it costs £4,800.
"We are hugely grateful to Kim, the owner of the gym, and Jason, who works with Riley.
"We have seen a massive progress with his walking since attending, plus he was getting a bit fed up with physio.
"He has a whole new enthusiasm and is really enjoying the gym. He has been doing a lot of walking with his crutches which he wasn't doing before.
"The weight training is really building up his strength."
Kim MacDonald of Mission Fitness Scotland,  said: "When he joined he was quite timid and there were a lot of things he was unable to do, simple things like stand up unassisted.
"Now he is very confident, is walking on his crutches and is a lot more confident doing normal daily tasks.
"His determination is unlike any other I have ever seen.
"When he originally came to us we weren't sure how Riley would take to training, but within a few weeks we started to see some big differences, he is responding really well and is enjoying it."
The fundraiser on September 1 takes the form of back-to-back fitness classes of 45 minutes each with a 15 minute break in-between. It will run through the night from midnight to 8 am.
There will be a variety of classes including boxing, fight club and dance with participants being sponsored.
It costs £10 to take part, spaces are limited to 30 and already a number have been taken.