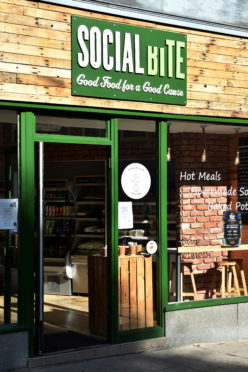 Homeless and vulnerable people in Dundee are to receive free sandwiches for a period during the COVID-19 pandemic.
Social Bite has expanded efforts to provide free food across Scotland to those who need it.
In Tayside, the initiative has been backed by care home operator, Balhousie Care Group.
The sandwiches are being prepared at a Dundee care home, with Social Bite and Balhousie aiming to distribute 800 sandwiches per week throughout the city.
Co-founder of Social Bite, Josh Littlejohn said: "Last week Social Bite delivered more than 15,000 emergency food packs in Edinburgh, Glasgow and Aberdeen to homeless people and other vulnerable groups.
"We plan to keep growing this food distribution service throughout the Covid-19 crisis and we were determined to extend the provision to Dundee.
"Because we don't have premises in Dundee we really needed a local partner and Balhousie Care Group has massively stepped up to enable this to happen.
"By donating their kitchen team and the food, they have helped us to feed many Dundonians who are in really desperate need during this crisis."
Social Bite will distribute the food to a number of venues across Dundee, including St Salvador's Church, Rock Solid Douglas and Lochee Community Larder.
Staff at Balhousie will also deliver the food where necessary. The initiative is expected to run in the city for four weeks.
Balhousie Group Chief Executive Officer, Jill Kerr said: "[Social Bite] does extremely valuable work, which is going to be needed all the more in the coming months.
"It's our job to provide care every day to some of our most vulnerable citizens, and with this initiative we are simply taking our care outside of our homes and onto the streets."
More information on the initiative can be found on the Social Bite website.