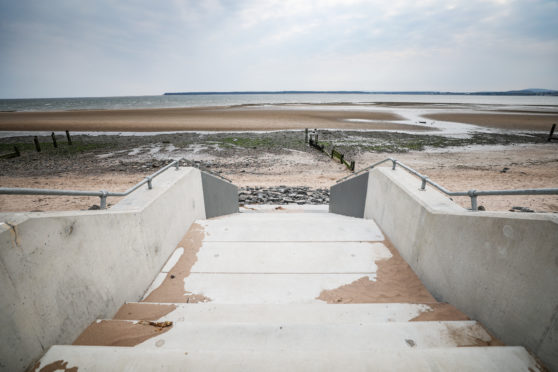 The sea has been blamed for a large pile of rocks which have appeared on Broughty Ferry beach.
Dog walker Marilyn Mauran, of Kellas, is among a number of people who have complained about the debris, near the Esplanade.
She said it was making it very difficult for people to access the steps, particularly children, the elderly and anyone with a disability.
A Dundee City Council spokeswoman said the rocks were normally covered by sand but the sea had washed it away leaving the stones exposed.
"We are aware of the situation and will take appropriate action," she said.
Mrs Mauran, of Westhall Feus, said the situation was "a total disgrace".
"I walked onto the beach and walked along it with my dog, Ben, and I wanted to walk up the steps," she said.
"I have a nine year old black Labrador and when he tried to get over the stones he found it a struggle. He could have trapped his foot or broken a leg.
"I think it's outrageous. It is particularly dangerous for children and elderly people. What about people with disabilities?
"If someone fell and hurt themselves on the rocks they could be there for a long time before someone found them."
It is not the first time Mrs Mauran has run into difficulties at the beach.
In January a large concrete block that stretched the width of the stairs appeared in the sand.
Mrs Mauran came across the slab on New Year's Day and had to clamber over it, leaving her exhausted.
A city council spokesman said the the concrete issue would be fixed when the tide brought more sand in to cover it and that it would be taped off until the sand level rose.
Flood protection work was carried out on the beach earlier this year.
The scheme saw workmen widen and increase the height of some sand dunes between the Glass Pavilion and Broughty Ferry Castle.
Any dunes that were not more than five metres above sea level were raised.