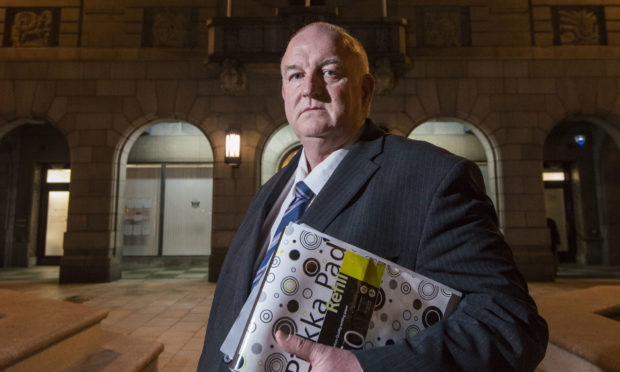 A city councillor has blasted education budget cuts after inspectors published a "damning and upsetting" report into failing standards at a Dundee school.
Education Scotland visited Sidlaw View Primary in Kirkton earlier this year and rated the school "weak" in three out of four quality indicators.
In a report published on Tuesday, inspectors called for "prompt action" to improve leadership across the school.
Bosses were told they must raise standards in learning, teaching and assessment after visitors found children at Sidlaw View are not yet making sufficient progress across the broad curriculum.
Councillor Kevin Keenan, the leader of Dundee City Council's Labour group, said the report illustrated the "failings" of the local authority's education policies and a lack of resources made available to Dundee schools.
He accused the ruling SNP administration of "letting down everyone in our learning community right across the city".
Mr Keenan said: "A report with three weaks and one satisfactory is far less than what our parents, guardians, teachers and most of all children should expect.
"We have never had one report within the last five years that gives a grade of very good. Most grades have fallen into the following categories: weak, unsatisfactory, satisfactory, and at best we have received good."
Mr Keenan said cuts introduced in this year's budget will result in the loss of 26 teachers and 30 support staff.
"This is far from any kind of glowing report and if anticipated more should have been done to support the school," he said.
"The SNP should start to treat education as a demand-led service and resource it appropriately."
Dundee City Council's children and families services convener Stewart Hunter insisted the department had "already started making the changes necessary to get the school to where we all want it to be".
He said: "We shouldn't forget that in the last 10 years we have received far more positive inspections of our schools than negative ones, and in all that time not once have I seen an elected Labour politician in this city actually praise our schools and our staff when they do well.
"What a kick in the teeth to our schools and staff that have seen those positive reports that Councillor Keenan uses his statement to attack them rather than praise the good work that they have done.
"It is a reminder to those of us who were there during his disastrous time as leader of the administration that his concept of leadership is to blame others, throw people under the bus and try and find scapegoats."
Mr Hunter added: "We still have a lot more to do and we have had some setbacks recently but the data shows the clear progress that we have made."