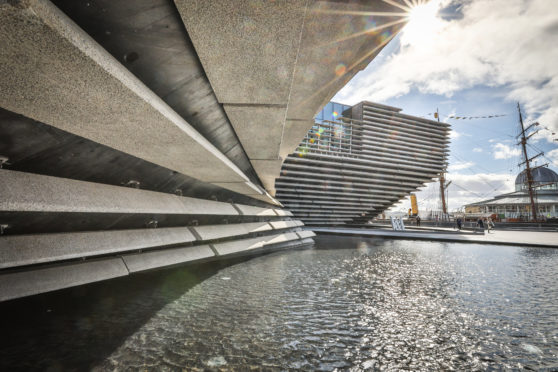 The long-awaited V&A Dundee delivered a boost of more than £10 million to the city's economy in its first seven months, a new report has revealed.
The £80 million waterfront museum, designed by Japanese architect Kengo Kuma, opened its doors to the public in September last year.
Dundee City Council committed £15 million to the construction costs of the building while the remainder of the costs came from private and charitable sources and government grants.
The £15 million share from private and charitable donations was the largest ever philanthropic donation to such a project in Scotland.
A final evaluation report by the National Lottery Heritage Fund, which also contributed to the funding of the museum will be considered by Dundee City Council's policy and resources committee on Monday.
It says the museum gave an estimated £10.3 million boost to the economy in its first seven months.
The report states: "The opening marked the culmination of over 11 years of planning to realise the new museum and its contribution to its local community, Dundee's redevelopment, and our understanding of design heritage and encouraging new creativity.
"Since opening, the museum has welcomed over half a million visitors, significantly exceeding the original estimated.
"Standing at the centre of Dundee's waterfront transformation, it has been widely recognised for its contribution to the re-positioning of the city and a great place to live, visit, study and invest in."
The report says more than 100,000 people across the globe were part of the museum's pre-opening programme.
It says 96,000 people purchased tickets to see the Ocean Liners exhibition while 380,000 had visited the Scottish Design Galleries by the end of March this year.
In total, more than 500,000 people visited the museum by the end of March.
Under its key findings, the report praises Dundee City Council's leadership of the project, stating its "ongoing commitment" had made it a success.
But it notes that the original £45 million price tag for the building had underestimated how much it would cost to realise Kengo Kuma's vision.
It states: "There is a shared acknowledgement among key partners that at the design competition stage the budget and architectural aspirations for the project should have been better aligned."
Philip Long, director of V&A Dundee, said: "Building and opening Scotland's first design museum is an extraordinary achievement and something that has already had a hugely positive impact on local communities and the city's economy.
"It's an exciting time as V&A Dundee prepares for its first birthday and we look ahead to an ambitious programme of international exhibitions in the coming years.
"This is a good opportunity reflect on all the achievements and hard work of those who delivered and supported this new world-class museum."