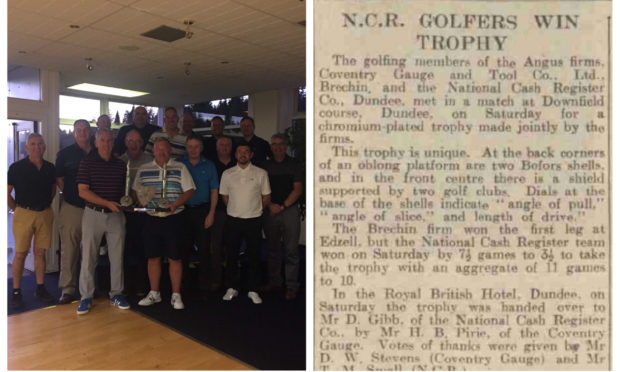 A golf rivalry between two well-known Tayside businesses which was resurrected after seven decades will return again next year after competitors unearthed fresh information about its history.
Electronics and cash register manufacturer NCR Dundee and Brechin-based Coventry Gauge and Tool first competed over a trophy created by the two firms in 1949, in a two-leg tie at Edzell and Downfield golf clubs.
The latter business, now known as Matrix International, designs electromagnetic clutches. Its post-Second World War munitions work was used to inspire the design of the unusual trophy, which features two shells and dials from a launch device.
NCR, which provided the shield at its centre, along with supporting golf clubs and balls, won the inaugural tournament and held on to the trophy the following year when the two sides competed again in a one-off tie in Alyth.
Long-forgotten golf rivalry between Tayside firms reignited over 70-year-old trophy
The first contest was covered in a 1949 edition of The Courier and also featured in the Evening Telegraph. Modern competitors also unearthed a clipping from the Brechin Advertiser covering the 1950 tie.
The Courier report states: "The golfing members of the Angus firms Coventry Gauge and Tool Co Ltd, Brechin, and the National Cash Register Co, Dundee, met in a match at Downfield course, Dundee, on Saturday for a chromium plated trophy made jointly by the firms.
"This trophy is unique. At the back corners of an oblong platform are two Bofors shells, and in the front centre there is a shield supported by two golf clubs. Dials at the base of the shells indicate 'angle of pull', angle of slice', and length of drive."
It confirms the trophy was handed over at the Royal British Hotel in Dundee to Mr D Gibb of NCR by Mr HB Pirie of Coventry Gauge and Tool.
The prize has remained at NCR's Fulton Road offices for 70 years but was finally put on the line again last week after staff delved into its history and decided it was time for a rematch.
Jack Mannion, production management director at NCR, who set down the challenge, said: "The planned rematch went ahead in glorious conditions at Downfield golf club on Friday. The weather was extremely kind and Downfield did us proud.
"Unfortunately the NCR team battled well but succumbed to a 3-1 defeat. We had a terrific day and the Matrix team were very gracious.  We have requested the opportunity to win the trophy back next year, which Matrix have agreed to."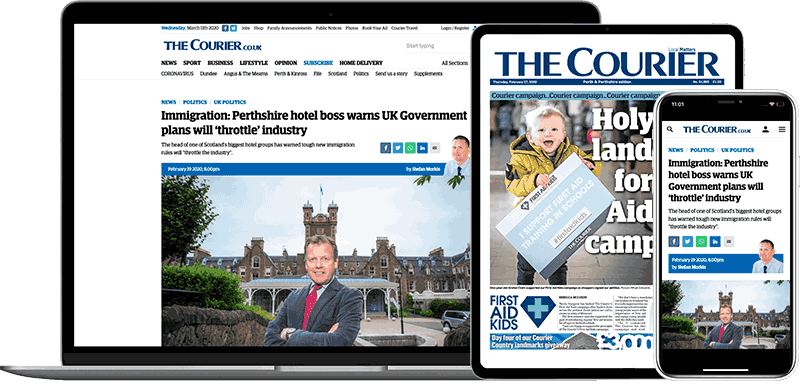 Help support quality local journalism … become a digital subscriber to The Courier
For as little as £5.99 a month you can access all of our content, including Premium articles.
Subscribe