Relatives of people buried at a Perth cemetery have been left in tears as they are left unable to see loved ones' graves, which have been covered in flood water.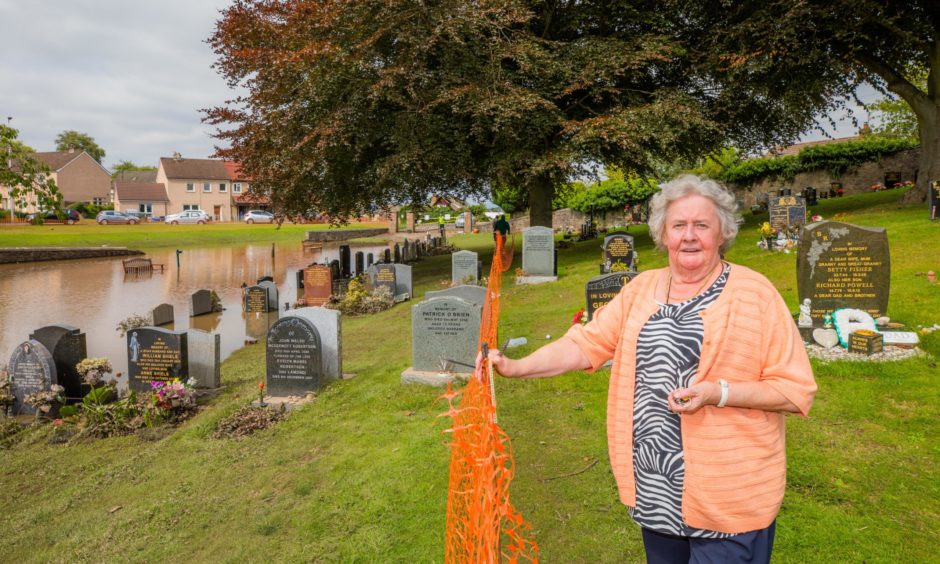 Swathes of Jeanfield Cemetery were submerged in Tuesday night's storm forcing Perth and Kinross Council to erect fencing and safety notices around the graveyard stopping family members from gaining access to affected areas.
The local authority put up a warning, stating that following a safety inspection, parts of the memorial ground had been deemed unsafe.
On Thursday afternoon Mary Peoples travelled down to the cemetery to check on her husband's grave but was unable to get close to it due to the fencing.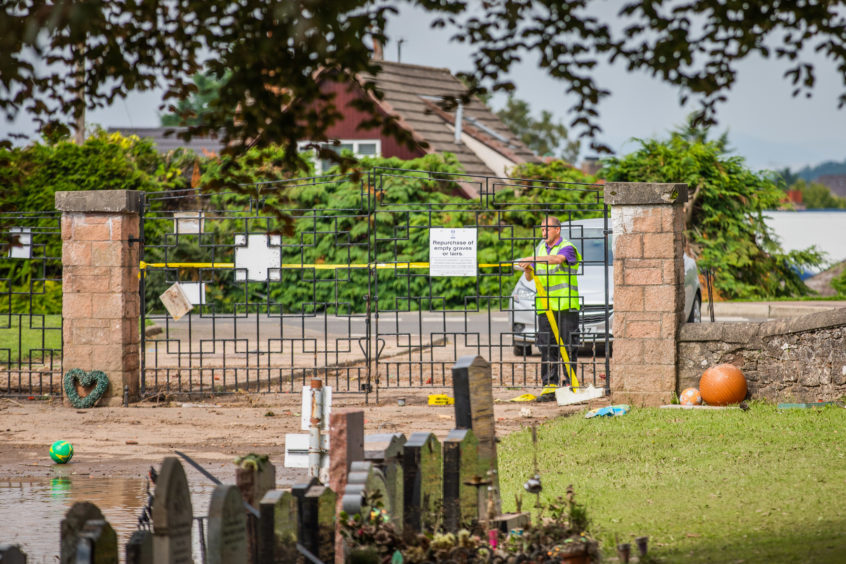 The grave was touching the water's edge and Mary remained hopeful it had not been damaged.
She said: "Even if we could get in and to give it a clean up and a shake to see if it's okay. But this fence is keeping us back.
"It's a lot of concern for a lot of people. Once that water goes away there's going to be people's ornaments everywhere. It's a shame.
"It's normally a well kept cemetery."
On Wednesday, people were seen visiting the graveyard to try to rescue flowers and ornaments from tombstones. By the following day, nearby bits of dry grass were covered in makeshift memorials to the graves that remained under water.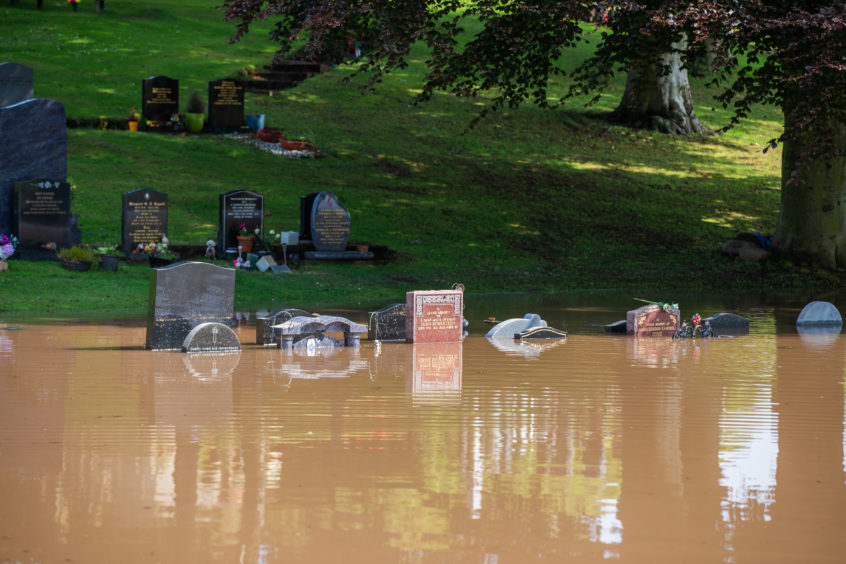 Griffin Ferrie, who lives directly opposite the Rannoch Road entrance to the memorial ground, witnessed many groups coming to check on the graves before they were fenced up.
He said: "There's been an awful lot of people in worried about the front row of graves.
"There was a wee girl in there this morning in floods of tears because her granny is in there. It was very upsetting for the wee girl. I feel sorry for the people that's in there."
The sign warning family members not to touch the graves also reminded relatives they remain responsible for them.
It read: "Following a memorial safety inspection, this memorial has been found to be unsafe and in need of immediate attention to prevent injury to yourselves and members of the general public while visiting the cemetery.
"Do not touch or approach the memorial. All memorials remain the responsibility of the owner to keep in good safe order."
Spectacular lightning storm causes travel chaos and flooding in Perth
The local authority also stated it would not be responsible for any damage that occurs during the process of making the memorial safe.
The council said on Wednesday it would be contacting the relatives of those whose graves are affected, though Mrs Peoples said she had not been contacted and doubted that she would be.
A spokesperson for Perth and Kinross Council said: "Residents of Perth and Kinross want to remember their loved ones in well-maintained cemeteries and burial grounds and we strive to deliver this important service.
"We are aware of the impact on Jeanfield Cemetery following Tuesday night's thunderstorm and… have been carrying out works.
"We will be notifying lair owners and arranging for repairs to be carried out as soon as possible."