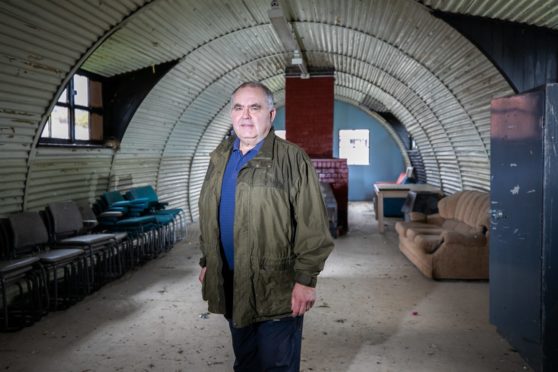 The transformation of a Perthshire prisoner of war camp into a thriving 21st century visitor attraction and community asset will take another step forward, thanks to a lottery funding boost.
The team behind the rebirth of Cultybraggan Camp will spend the £9,850 award on renovating an old Nissen hut to create a cafe, kitchen and community hub.
The Comrie Development Trust (CDT) is upgrading the former officers mess at the Second World War camp which was once home to some of the most notorious captives of the conflict.
The group's office manager Lynn Manderson said the National Lottery funding would take it a long way towards reaching its goal.
"The money will be used to re-install and upgrade power, water and broadband fibre to the building and this will help us to take the renovation project forward in the future," she said.
The Comrie camp is the only one of its kind in Scotland that remains open to the public.
Known as the "Black Camp of the North", it was built in 1941 with space to hold up to 4,000 prisoners.
Its occupants included SS officers, members of the Wehrmacht, and Luftwaffe and Marine Corps, and Cultybraggan gained a notorious reputation.
From 1948 until its closure in 2004, it was used by the Ministry of Defence as a training centre.
The Comrie Development Trust stepped in and bought it in 2007 under community right to buy legislation.
Visitors to the camp can see a recreation of prisoner accommodation, while learning about its history through a storyboard tour.
Other plans for the site include the creation of self-catering holiday apartments in the old huts. Work on laying the underground services started this summer.
The trust's award is the latest in a series of Lottery payouts  secured by groups across Tayside and Fife.
Earlier this year, mental health charity Lighthouse for Perth was awarded £10,000, while Fife Rape and Sexual Assault Centre (FRASAC) received £99,210.
Roseanna Cunningham, SNP MSP for Perthshire South and Kinross-shire, welcomed the backing and said it was a critical time for local groups.
"I am delighted to have received confirmation from the National Lottery Community Fund that local groups and organisations have been awarded significant levels of financial support", she said.
"Recent months really have pulled into very sharp focus how important it is for communities to pull together.
"The National Lottery is stressing that it remains open for business and that all of its funding programmes are still open for applications."