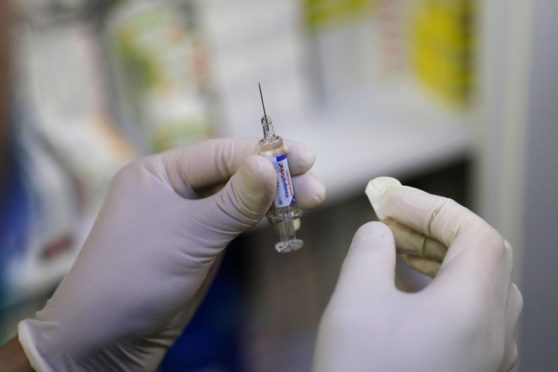 Perth residents are being forced to travel to less safe areas for private flu jabs, amid UK-wide stock shortages.
Residents in the Fair City who are not eligible for a free flu vaccine have had to seek appointments as far away as Dundee due to a lack of local appointments.
Perth and Kinross is currently under Tier 2 restrictions and Dundee is under more stringent Tier 3 rules.
This has prompted concerns over residents being forced to travel to travel to areas with higher rates of coronavirus to get their flu vaccine.
Demand for the vaccine across the country has soared in the lead up to this winter amid fears surrounding Covid-19 and a massive publicity drive.
Meanwhile, appointments at one Dundee city centre pharmacy had to be cancelled after flu vaccine stock ran out.
Cancellations at the Superdrug pharmacy at the Wellgate shopping centre affected both Dundee and Perth residents alike, with appointments having been rescheduled for later this month.
Superdrug issued a statement saying: "Due to high demand all of our health clinics are now unable to take any new bookings for the private flu vaccination service.
"All of the existing bookings for the private flu vaccination service in these health clinics will be honoured.
"Additionally, the vast majority of our Pharmacies across the UK are still supplying both the NHS and private flu vaccination service."
The increase in demand has affected pharmacies all over the UK.
Boots pharmacies increased its flu vaccine orders by 20% for this year but have still seen more demand than stock available.
A spokesperson said: "We know that this year, our customers have been more conscious about protecting the health of themselves and their families.
"As a result, we have seen more people booking early to get their flu vaccinations, and due to the level of demand and limited stock that we have available, we made the decision to pause taking any new online bookings for our private vaccination services."
A spokesperson for Asda pharmacy said: "'Due to the extremely high demand for the flu vaccine this year, there may be longer queues for patients wishing to get their vaccinations."
Mid Scotland and Fife MSP, Alexander Stewart said: "This situation is causing great anger and anxiety across our communities, especially due to the risk this year of vulnerable people contracting both Covid-19 and flu and becoming gravely ill.
"People are being written to but are receiving their communications after their appointment times or are unable to secure their appointments locally, with pharmacies running out of stocks.
"As a result, many elderly and vulnerable people have no transport of their own and with public transport being advised against and increasing the risk of virus contraction, they are unable to travel further afield."
MSP John Swinney said: "The Scottish Government recognises that flu poses a serious medical risk to a significant portion of our populace.
"To that end, we have ensured that we have enough flu vaccine doses for everyone that is eligible. Amongst this group are social care workers of all ages."
Mid Scotland and Fife MSP, Liz Smith said: "In recent days, l have been approached by several constituents who are worried about these changes which advise patients who wish to make an appointment that they will have to make an online booking rather than phone in to the surgery.
"Not surprisingly, this is causing significant concern and anxiety not least because it has a disproportionate and detrimental effect on those patients who are older and more vulnerable and who do not have access to online appointment procedures."
However, the Scottish Government dismissed Ms Smith concerns as "wrong".
A spokesperson said: "These comments are wrong and potentially misleading.
"It is still possible to get an appointment by phoning up, and that won't change.
"For patients that wish to, we are rolling out the option to use digital technology to book an appointment with a GP."