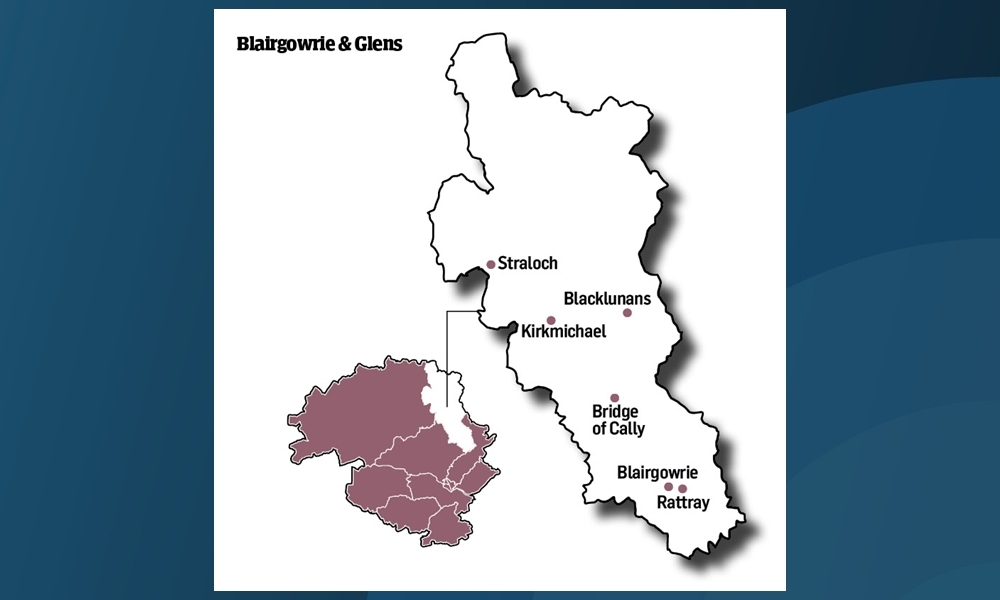 Blairgowrie and Glens stretches from the snowy climes of Glenshee to rural settlements around the River Ericht, making it one of the biggest wards in the Perth and Kinross region.
Largely rural – around 80% of the 11,000 population stays in Blairgowrie itself – the area is a popular draw for outdoor pursuits such as skiing.
Blairgowrie, Perthshire's biggest town, has a busy central area which regularly hosts markets and entertainment. In 2015, the town made headlines when it switched off its widely unpopular traffic lights after years of opposition from locals.
More recently, the town's high school was at the centre of a political row when parents were sent a letter asking for help with Maths lessons, because of a national shortage of teachers.
Levels of both income and unemployment amongst over-25s in Blairgowrie and the Glens are higher than average for Perth and Kinross, with just over 4.4% claiming Job Seekers Allowance (still much less than the Scottish average of 6.3%).
There is also a higher percentage of older people claiming guaranteed pension credit.
The ward is the only area outside Perth City which is considered deprived, as defined by the Scottish Index of Multiple Deprivation (SIMD). Both areas around found in the Rattray area.
Residents have been involved in a charrette programme, helping shape the future of Blairgowrie and neighbouring Rattray and draw up a wishlist of development and investment.
A large-scale wind farm at Bridge of Cally, which was opposed by residents and local groups, was recently rejected by councillors.
---
Candidate profiles
The Courier invited each candidate to submit a short introduction to themselves and, if they wished, a video explaining why they deserve your vote.
Bob Brawn (Conservative)
As the May election draws ever closer, I thought I should try to answer that all important question- why vote for me? Well, running the local shop and Post Office, with my wife, for the last fourteen years, puts me in the right place to appreciate the changing concerns of the local community. Whether it be the state of the roads, concerns over education or local health issues,  public transport  or something more personal, people know there is a friendly ear to listen and they will receive a calm and fair minded response. They know their worries will not be ignored but taken on board to pursue the best result. Your vote would also send a clear and concise message that you are against a second referendum on independence at this time.
There comes a time for change and that time is now.
And finally, and perhaps most importantly of all, as a candidate for election, I believe in two principles – firstly that we are a community with a local authority and not the other way round and secondly that although elected by a majority I would be there to represent all.
Gordon Clark (Lib Dem)
Gordon joined the Scottish Liberal Democrats after returning from many years of working abroad to support the local community and give it a voice in Chambers.
He grew up in Scone where he now practices Alternative Dispute Resolution, particularly International Commercial Arbitration and Meditation. He is committed to the fundamental principles for which the party stands, most importantly equal opportunities for all. If elected, he says he will be a tireless advocate for the community.
Tom McEwan (SNP)
Tom has been working as a hospital pharmacist in NHS Scotland for 22 years, moving to Perthshire in 2002.
Tom has studied at the universities of Strathclyde and Robert Gordon's in Aberdeen, is a non-medical prescriber to patients in Tayside and works closely with other healthcare professionals in both hospitals and the NHS in the community.
Moving to Perthshire from Edinburgh was an easy decision for Tom and his wife Donna. Starting a family in the rural setting at the foot of the Cairngorms has brought them two lovely daughters.
Living near Blairgowrie allows Tom's family to continue their passion for the outdoors. Tom enjoys photography, cycling and snowboarding at Glenshee where the family are members of Blairgowrie Snowsports Club.
Tom's daughters ski as part of the Glenshee Performance Squad. In snowboarding Tom has represented the club in annual Boarder-cross competition runs. Only the SNP truly values our communities' potential.
Alison Mulholland (SNP)
Originally from Swansea, Alison has lived in Scotland for 40 years and now lives in Blairgowrie and the Glens with her husband Stuart and two sons.
Alison has worked as a psychotherapist for sixteen years, specialising in treating children and young people in residential care.
With a long term interest in mental health, she has authored and run programmes for the promotion of health and wellbeing for young people.
Alison's passion for the outdoors and hillwalking has led to a strong belief in the importance of access to a wide a range of physical activity for all ages to improve physical and mental health. At home, Alison loves cooking for her family and dressmaking.
Alison was a volunteer at the recent Scottish Rural Parliament in Brechin. This offered an opportunity to assist in the development and promotion of policies that recognise the importance of building strong relationships within communities like Blairgowrie & Rattray to show sensitivity for the needs of others, to listen and offer help when it's needed.
Louise Ramsay (Green)
Louise is standing in the Blairgowrie and Glens ward for the Scottish Green Party and did not respond to The Courier's request for information.
Caroline Shiers (Conservative)
I am delighted to stand again for election. Having represented Blairgowrie and Glens for 10 years, I am aware of the challenges the local community faces. It is a fantastic place in which to live and work but there are many things that can be improved. I am working on these – parking, transport, education, road safety, community policing, improving our parks – and with your support on May 4, I will continue to do so.
A huge challenge is to ensure our schools are the very best they can be and that is one of my top priorities. We are also seeing many planning applications coming forward which will see the town grow– this brings opportunities but also challenges for our infrastructure, recreation and health facilities and our schools.
I have worked hard to argue for a return to community policing and I am pleased we are now benefiting from a return to local officers. I will continue to work with organisations to bring about changes and improvements to the benefit of the local community.
Our rural communities face specific issues in access to services such as broadband, transport and healthcare – tourism and business in rural areas need support too.
I have enjoyed working with our great community groups. With residents support, I look forward to continuing this team work for another five years.