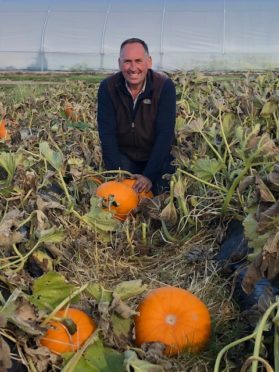 A Perthshire farm is helping locals get into the Halloween spirit with a special pumpkin festival.
Broadslap Fruit Farm in Dunning have grown the festive squash plant for the first time to help celebrate Halloween in the local area.
The farm will open its doors on Saturday for locals to come and pick their own pumpkins ahead of the celebration on October 31.
Face painters and RSPB workers will attend the event to offer entertainment for children.
It will also run throughout next week and on the weekend of October 27 and 28.
Having grown the pumpkins since February, Grant Reid, farm owner, hopes the festival can help extend his fruit season business.
"It's our first time growing pumpkins," he said.
"The fruit season is a quick one so we are trying to add to that where we can.
"It usually runs from June to August so we are hoping this event can extend our season.
"We have grown roughly 1,000 pumpkins. The started as seeds in February and were planted in April, with the good summer helping us out.
"We are the only people in the area growing our own pumpkins.
"You can buy pumpkins cheaper in supermarkets but it is good for children to see how they are grown and get out and pick their own.
"We have only been in the fruit farm for five years and we are always trying to expand and get more people in.
"If it's a success, we will definitely continue to do this."
Due to the adverse weather conditions this year, one farmer claimed it maybe be hard to find the right size of pumpkin in the supermarket this season.
Tom Spliman of Spilman's Pumpkin Farm, near Thirsk in North Yorkshire said the hot summer weather has increased the size of farmers squash, with supermarkets struggling to get hold of the bigger sizes.
Despite only being his first year in the pumpkin business, Mr Reid said his seeds have grown really well.
"The pumpkins are being talk about locally," he added.
"We have a full range from small to large and they have grown and ripened really well.
"We usually grow vegetables and fruits like strawberries, raspberries and gooseberries.
"The good summer has helped our fruit businesses and our pumpkins."