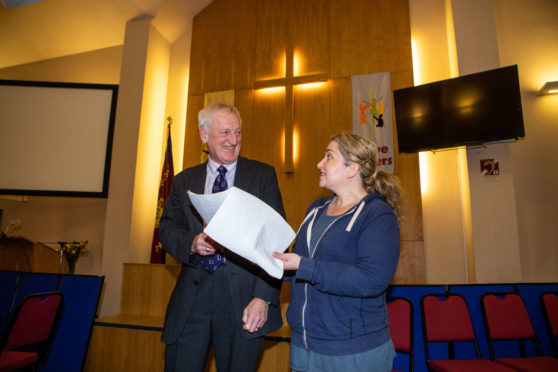 A moving one-woman show has encouraged inmates of Perth prison to consider the impact their behaviour has on those around them.
Actress Naomi Breeze portrayed a mother and the way her life, and those around her, were affected by her son's actions.
The performance was presented to prisoners serving short-term sentences at HMP Perth, as well as those facing imminent release, in the hope they will reflect on their own behaviour.
After the performance on Monday night, Pete White of Positive Prison? Positive Futures spoke to the prisoners about how they can control their behaviour and attitudes when they are released.
He said: "It was a very powerful performance, especially since it was just one woman with only a couple of chairs and tables as props.
"It was from the perspective of a female and it encouraged the men to think about the consequences of their actions and the knock-on effect their time in custody has had on their families.
"Afterwards I spoke to one of the inmates who said that really resonated with him."
James Docherty of Police Scotland's violence reduction unit told prisoners about his own experiences of the ways crime can affect families and how adverse childhood experiences can lead people to commit crimes, rather than the belief that all criminals are inherently bad.
Pete said: "Events like these show prisoners that people do understand their situations and they can change their behaviour and attitudes, as well as giving them a chance to reflect on the choices they have made which led them to where they are.
"If something like last night resonates with even one person, which stops them committing another offence, meaning one less victim and one less damaged family, that is enough to have made it worthwhile."
The event formed part of a campaign by Perth and Kinross Violence Against Women Partnership to reduce gender-based violence.
They are joining the international 16 Days of Activism movement with a range of events to raise awareness.
As well as the prison event, Naomi also performed to an invited audience at Perth's Salvation Army on Monday afternoon.
On Thursday afternoon a silent vigil will be held in the city centre, before a march starting at 6pm in the High Street. It is hoped both demonstrations will show solidarity with women and support their right to roam the streets without fear of violence.
Next Friday Jasvinder Sanghera, a survivor of forced marriage, will speak at Perth Theatre about her experience and support for people facing honour-based violence.
The 16 Days events finish on Monday December 10 at the Royal George Hotel in Perth, where information will be given about the help available to women, children and young people who have faced domestic abuse. A full list of events is available at pkvawp.org/news/16-days-of-activism-2018-calendar.