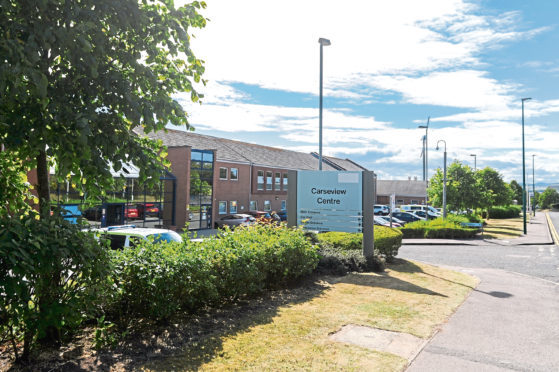 Health chiefs are under growing pressure to halt a controversial review of mental health services, amid an ongoing probe into serious abuse allegations at Carseview in Dundee.
Leading charities in Perth have condemned NHS Tayside for pressing ahead with talks on a shake-up that could see vital mental health provision transferred out of the city's Murray Royal Hospital to the psychiatric centre based at Ninewells, Dundee.
Stakeholders, mainly local charities, are due to meet with health bosses on Tuesday to discuss the next stage of the process.
PLUS Perth, which offers lifeline support to hundreds of people across Perth and Kinross, is demanding that negotiations are held off until a separate inquiry into accusations of abuse at Carseview is completed and recommendations are agreed.
The internal investigation was launched following a campaign by families who blame care standards at the centre for a series of suicides and other incidents.
Calls to halt this week's negotiations on the Mental Health and Learning Disability Service Redesign Transformation Programme have also been backed by Perth-based charity Mindspace.
Susan Scott, manager at PLUS Perth, said pressing ahead with the review while the Carseview study was still ongoing was "idiotic".
---
---
"I would imagine those four families (involved in the investigation) would find it extremely offensive for NHS Tayside to push their agenda before even awaiting the inquiry report and recommendations," she said.
"The proposed meeting is a precursor to future expenditure for the transformation programme. As the inquiry is still ongoing, a reasonable person could surmise that any recommendation that runs contrary to the programme would be money wasted."
She said: "PLUS Perth will not be participating in this highly inappropriate meeting. We want to support changes that we deem necessary to improve services for the future of all the community, not just to benefit NHS Tayside, and this meeting – prior to the independent report being published – does not do it."
Ms Scott confirmed that PLUS Perth would not attended the talks. "The problem with going to the meeting is you will be counted as someone they heard and who has been consulted.
"Having the meeting now is, literally, out of order."
Jillian Milne, manager at Perth-based Mindspace said: "There is absolutely no reason they cannot wait until the inquiry is completed.
"Indeed it would be in their favour to publicly say they were reviewing those decisions in light of the inquiry and the staff changes."
An NHS Tayside spokeswoman defended the ongoing negotiations. "Following approval of the new model of care for General Adult Psychiatry and Learning Disability inpatient services in Tayside in January, we have begun work to prepare for the implementation of the new service models," she said.
"As part of this implementation work we need the support of all those in contact with our services to help us ensure that the accommodation and the services provided best meet the needs of everyone.
"There are a number of areas at both Carseview and Murray Royal which currently require refurbishment and improvements to ensure we can continue to provide safe environments for our patients.
"We organised the engagement event inviting them to come along and give us their feedback to support the refurbishment works required and help create environments that are patient-centred."
She added: "We have responded to the email from Plus Perth, offering further information and reassurance regarding the purpose of the event. We look forward to welcoming all our stakeholders to the event next week."