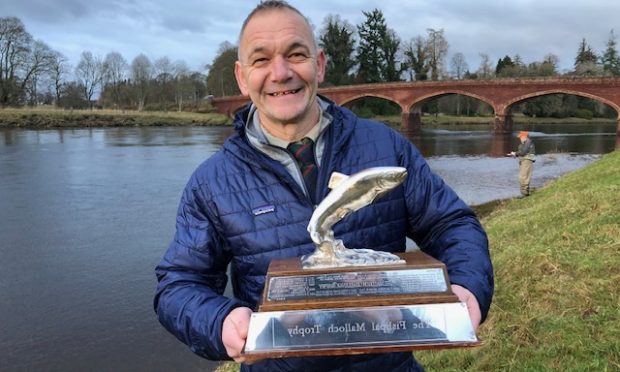 A Perth angling enthusiast has achieved a childhood dream to snag a prestigious award – more than 40 years after catching his first salmon.
Philip Black won the Malloch Trophy for the best catch-  the most coveted prize in Scottish salmon fishing – for a 28lb beast he caught last March.
Almost one year after the catch from the River Teith in Lanrick Estate, near Doune, the 51-year-old was presented the trophy.
It was handed over during "tight lines" celebrations at Meikleour to launch the new salmon season.
Philip has been longing to win the trophy since he was a child and follows in the footsteps of his grandfather, Callum Gillies, who won the prize twice in the 70s.
"I caught my first salmon when I was eight years old and I have been trying to win ever since," said Philip.
"My grandfather was a fishing ghillie on the Tay and at Kinnaird Estate for 50 years so we were brought up on the water, salmon fishing is in our blood."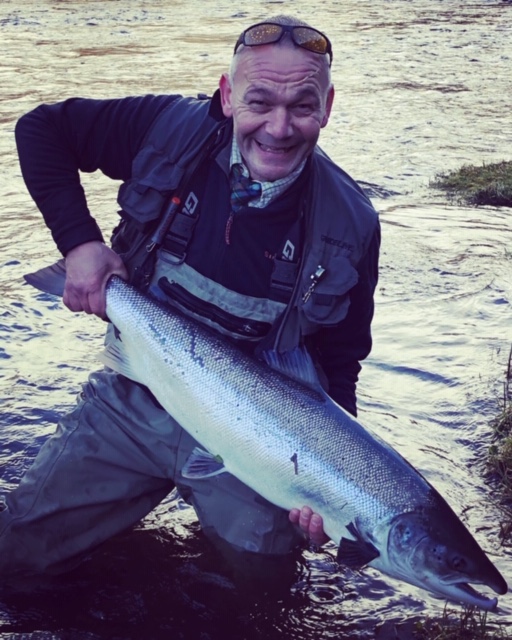 Philip is back on the water after giving up fishing for 10 years to help his father build the family business, Castlecroft Securities, and enjoying bragging rights over his brother Tony, who works as a ghillie on Murthly Estate.
Philip, who lives in Ruthvenfield, said: "I always looked up to Tony when it came to fishing growing up and always wanted to be as good as him.
"He has had some crackers too but he can't win because he is classed as a professional so I'm enjoying having it over him."
The trophy used to be awarded for the biggest catch but has now been changed to take into account when and where the salmon was caught, as well as the quality.
Philip had been about to pack up his rod when he got the bite last year.
"I knew it was a great fish but it never really crossed my mind to enter it," he said.
"A lot of people were commenting saying it was a contender and my brother said the same, then low and behold I won it.
"It's not the biggest ever to win but it was big enough to win this year."
The angling bug may have been passed down through the generations but Philip is worried it may die with him as none of his children or his nephew have taken up the hobby.
He has now pinned his hopes on his two-year-old grandson, who is showing promise at an early age.
Philip said: "He's still young right now but he does like to see pictures of me fishing and things. He has already shown more of an interest than my own kids, so I'm hoping he will take it up."
Tight lines toasts were held across Perthshire this week to celebrate the start of the salmon season.
But the festivities were dampened by figures suggesting 2018 was one of worst years for catches since records began.
According to the Tay District Salmon Fisheries Board, the total for the season is somewhere between 4,500 and 5,000 – some 500 or more down on last year.
The summer heatwave, which dried up large sections of the river, has been blamed for dwindling numbers but experts have raised concerns that wider problems at sea could also be a major factor.