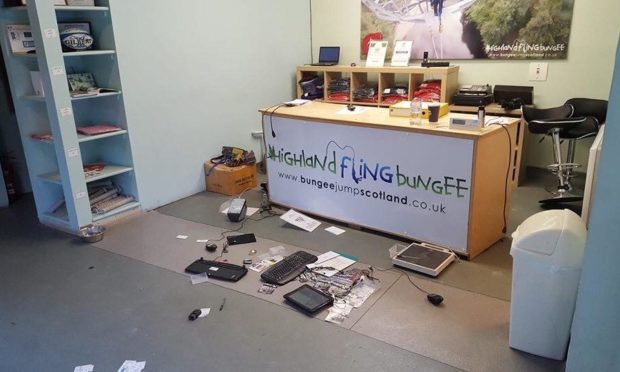 Police are probing a break-in at a popular tourist attraction in Highland Perthshire which happened in the early hours of Friday morning.
Thieves broke into the Highland Fling bungee jump centre in Killiecrankie overnight, and it was operations manager Laurie McCandless Thomas who walked in on the trail of destruction.
The perpetrators pilfered cash and computers, as well as ripping out the business's safe from the back room.
Laurie said: "I arrived on Friday morning at 9am to open up. I noticed the door was already slightly open and the wood around it was splintered, so I was expecting the worst.
"I could see through the glass that the stuff on the desk had been sprawled everywhere. The two Apple Mac computers from reception had been stolen.
"I went through the back and saw that they had ripped out the safe and taken another Mac, as well as the petty cash we keep."
The break-in has had a damaging effect on the business, and is something he hasn't experienced before.
"We had to close on Friday and cancel all the jumps we had booked. We've worked out a temporary solution, but the break-in impacts our business," he explained.
"It's not a good experience to walk into. I've been working here for seven years and in that time we've never had an issue with crime.
"People leave their bikes here unattended and it's a community where everyone looks out for each other."
Putting the break-in down to opportunists, Laurie admits the bungee jump and "Highland Swing" centre isn't the first to be targeted in the area.
He added: "It's usually quite lax around here. In the height of the summer there are a lot of people around.
"In the last few years, a couple of activity centres have been broken into, and I had thought that there was potential for that to happen to us.
"It's more than likely that it's someone who has been here before and seen the opportunity.
"The alarms were triggered and I think that's what scared them off."
Laurie has hope that the crooks can be tracked down, and believes that software on the plundered PCs will help identify the thieves.
"Crime is generally not a problem here. The rural crime department of the police have been really helpful and the forensics team have been out too," he said.
"Some of the apps on the computer can be traced and somebody has logged into one of them already."